Update: Amazon updated their policy on incentivized reviews (see the update here). We no longer recommend contacting top reviewers to offer your product for free in exchange for a review.
What should you do instead to get reviews?
Use Salesbacker — Sign up here and get 30 days free
Salesbacker lets you email your everyday customers on Amazon to ask for a review. The reviews that your regular Amazon customers leave are not incentivized and are fully compliant with Amazon's terms of service.
---
To ecommerce businesses selling on Amazon, reviews are an incredibly important component of a successful product on Amazon, because they act as social proof to other customers. The more reviews (social proof) you have, the more likely customers are to buy your product over the competition.
There could be dozens, hundreds, or maybe even thousands of people who have left a review on a product, and these all signal to potential customers "Come join the 5,512 customers who've reviewed and liked this product before you." It's a very convincing message to a customer.
Knowing this means you should be doing everything you can to get as many high quality reviews on your products.
There are many ways to get reviews. My favorite is Salesbacker *ahem* which is the simplest way to receive natural organic reviews and Amazon Seller Feedback ratings from your product sales — start your free trial here to see how easy it is…
But what about other review strategies?
Step By Step Guide: Asking Top Amazon Reviewers To Review Your Product
Step 1: Look up the top Amazon reviewers:
There is a page that lists the top 10,000 Amazon reviewers: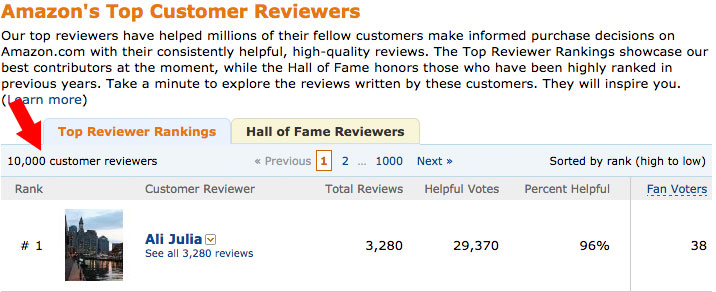 Step 2: Find reviewers interested in your product category, or niche (they'll be the most interested in reviewing your product)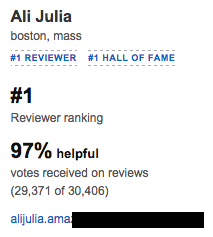 You can select any profile from the top 10,000 customers on any of the 1,000 pages. Often (especially at the top of the rankings) these top reviewers list their email address and their interests.
Note: Before you shy away from this task, we've made this even easier for you: We've done all the heavy lifting and compiled a full list of the top 10,000 reviewers on Amazon sorted out by, name, email address, interest and more — available for you to download (for free) at the end of this blog post.
Step 3: Modify this simple script to match your personality:
Hello Ali,

I found your email address in the top 10,000 reviewers on Amazon page and see you've reviewed other photography products. Would you like to try out my new super cool 10 foot long selfie stick? I would really appreciate an honest review.

Thank you so much in advance,

Chris
Super Cool Selfie Sticks, Inc.
Remember, you are contacting real people who have busy lives, jobs and schedules, so be polite. Not everyone will be interested in reviewing your product, but if you contact a lot of reviewers, you'll find plenty of people.
Step 4: Comply with Amazon's Review Guidelines
If you've read this far, then I know you're smart business owner and don't want to get in trouble with Amazon's Review Guidelines. Sellers used to send reviewers their product for free or at a discount, but Amazon now prohibits that. Please check the latest Amazon guidelines, since they do change every now and then!
Step 5: Rinse and repeat
I know that the last time I checked, there are 1,822 top Amazon reviewers who have listed their email address on the top reviewers page. How do I have that specific number?
Because I've compiled a free report for you to download of these 1,822 top Amazon reviewers, sorted out by name, email, interest, location and more. This free report includes a .PDF guide with the step-by-step instructions I've given you here for quick reference, and the full list of the top 10,000 Amazon reviewers.
Download your free report
Simply follow the steps I've shared with you today, and you can start getting more reviews on your listings right away. When you succeed (and I know you will), come back into the comments and tell me what you think of this review strategy.
Oh, and I've only scratched the surface above. If you want an even easier way of getting more natural organic reviews on your Amazon product listings, then sign up for a free trial of Salesbacker:
You'll see how in minutes, you can select one of our pre-written email campaigns designed to maximize review conversions, and you can start getting more reviews to your Amazon product listings right away.
See you inside for more sweet sweet seller goodness.