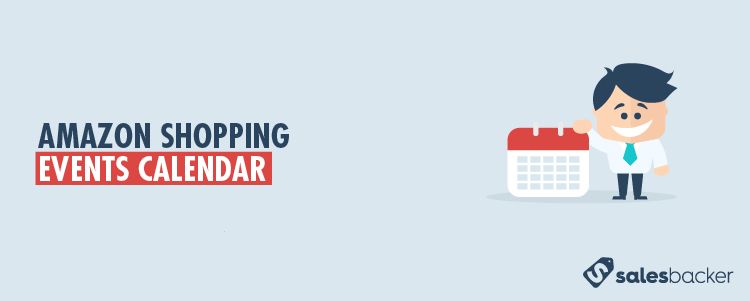 What are Amazon Shopping Events?
Throughout the course of the calendar year, Amazon runs a number of special Shopping Events that include deals they promote with extra merchandising, such as email campaigns and other marketing efforts. These Shopping Events provide sellers with a fantastic opportunity for increased exposure of their brand to customers shopping these events. Between the increased site traffic that these events often bring and the additional merchandising support that Amazon provides, these are critical opportunities to see a spike in sales that can continue to positively impact your sales even after the event finishes running.
Amazon's Shopping Events are typically seasonal in nature, and as such certain types of products do better in each specific event. For example, at the holidays categories such as toys, books, and other gifts tend to be front of mind for many customers, so these types of products tend to do best in holiday deals. So keep in mind that matching the products you feature in an event deal with related seasonal interest is the best way to see a positive impact from participating in Amazon Shopping Events.
When are Amazon Shopping Events?
Within Seller Central, Amazon lists a Shopping Events calendar that you can use for planning purposes. Keep in mind that the events are mainly seasonal, so most of these events will run at a time that would make sense based on holidays or other seasonal factors. You can view the Shopping Events calendar below: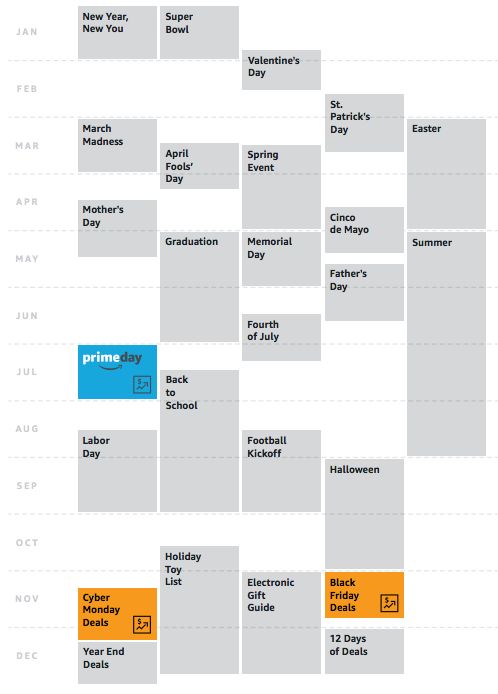 Image Source (Seller Central login required).
You'll notice that three of these events are specifically highlighted with a color and special symbol. These three events (Prime Day, Black Friday, and Cyber Monday) are the events that draw the most site traffic to Amazon. So, be sure you target these events accordingly and plan ahead, particularly for inventory management purposes.
How to Make the Most of Amazon Shopping Events
If you want to participate in an Amazon Shopping Event, the first thing you'll need to do is set up a Lightning Deal during the event. You can find step by step instructions for setting up a Lightning Deal as well as relevant tips here.
Tips for Success
Tip #1: Use Smart Inventory Planning
Along with setting up a Lightning Deal, you need to be sure you have thought through your inventory planning needs for the shopping event. You do not want to run out of inventory during your deal if you can help it. Also, Amazon is more likely to feature your product and corresponding Lighting Deal if you have adequate inventory levels — in fact, the more inventory you have the more likely you'll be featured. But you also need to keep in mind how storage fees could impact your business if you are left with tons of excess inventory after the deal is over. Be sure to spend some time thinking through the best way to find the sweet spot when it comes to determining inventory levels.
Tip #2: Include Products Relevant to the Shopping Event
As mentioned previously, many of the Amazon Shopping Events are seasonal in nature. So, when setting up your Lightning Deal you want to be sure to choose products that are a good fit for that particular shopping event, as this will greatly increase the odds of your product being featured in Amazon's merchandising.
Tip #3: Add Enhanced Brand Content to Your Lightning Deals
You are likely to see better conversion rates, customer engagement, and ultimately more sales if you include Enhanced Brand Content to the detail pages you are promoting.
Tip #4: Increase Sponsored Product Budget and Bids
Because of the increased site traffic that comes with Amazon Shopping Events, you are likely to eat through your Sponsored Product budget much quicker than on a normal day. So, it can be a good idea to increase your budget to ensure Sponsored Product campaigns continue to run during peak traffic times. Also, due to the increased competition that comes with Shopping Events, you may want to consider increasing your bid amounts in order to improve the odds of seeing your Sponsored Product campaign receive placement on the site.
Tip #5: Take Advantage of Increased Sales and Grow Your Product Reviews
Before you run your Lighting Deal, be sure you are signed up for Salesbacker so that each customer who purchases your product will receive an automated email from you asking for their feedback in the form of a product review. Growing the number of product reviews for your listing will help you to continue to improve your product listing to become more and more competitive. If you haven't signed up for Salesbacker yet, you can click here to receive a free 30-day trial.
To Wrap it Up
With just a little bit of advanced planning, you can position your business for the best possible odds of being featured in one or many of Amazon's Shopping Events throughout the calendar year. Be sure you take advantage of the additional merchandising and marketing that Amazon provides for these events so you don't leave potential sales on the table and allow your competition to get an edge over you.