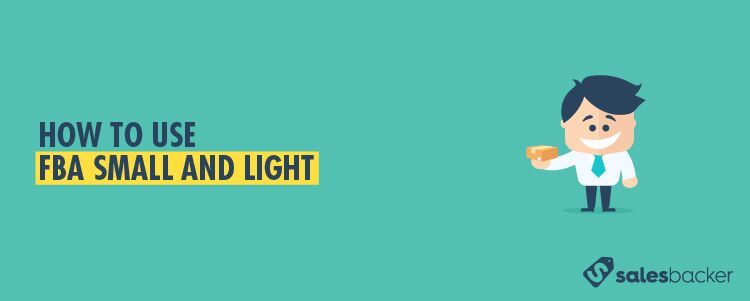 It is well known that under Amazon's traditional FBA fees it often doesn't make sense for third-party sellers to sell products that are below a certain price point, since FBA fees will quickly eat into your profits. But with Amazon's FBA Small and Light program, you'll find much lower FBA fees for small, light products that are typically priced under $10, opening up a wider range of product possibilities and strategies you can use to grow your business with Amazon.
What is FBA Small and Light?
The FBA Small and Light program is pretty simple. This fulfillment option is available to sellers with products that meet the following criteria:
Customer price of $10 or less
Dimensions of 16" x 9" x 4" or less
Weight of 15 ounces or less
The program comes with significantly lower FBA fees than the standard FBA rates, made possible by an alternate Prime delivery timeline for customers. Products sold through FBA Small and Light are marked as Prime eligible, but with a delivery timeline of 4–5 business days (compared to the typical Prime 2 day shipping guarantee). For customers who do not have Prime, products sold through FBA Small and Light come with free shipping within 6–8 business days.
Here's how the FBA Small and Light Prime badge appears to customers: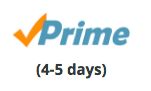 While FBA Small and Light does come with a longer shipping timeline for customers, there is no order minimum. This means that products are not subject to the Add-on Item $25 order minimum, which is another typical treatment of small, light, and inexpensive products sold through Amazon.
Why Use FBA Small & Light?
If you sell a product that is small and lightweight at a price point of $10 or less, FBA Small and Light will allow you to see much higher margins than what you'd get with the standard FBA program. And if you've been fulfilling these products yourself, you are even more likely to see improved margins thanks to the efficiency and cost-savings that FBA offers.
Not only will you see improved margins, but with FBA Small and Light you can offer free shipping to all of your customers in the U.S., whether they are Prime members or not. And of course for those customers who are Prime members, offering your product as Prime eligible means your products are visible to Amazon's most loyal and active customers.
If you're researching low-cost products that will sell for less than $10 pay attention to the size and weight of the product. Participating in the FBA small and light program can mean a big difference to your margins and may make or break your decision to move forward with production on the product.
Program Fees
To give you an idea of the potential cost-savings and improved margins you might see with FBA Small and Light, here is a breakdown of the FBA Small and Light fees versus standard FBA fees.

Image source (Seller Central login required)
At first glance it is pretty clear that the fees for FBA Small and Light can save a seller significant money. For parcels, the per-unit savings compared to standard FBA fees could be as much as $0.72, or as much as $1.32 for flat packages. When you look at the cost to self-fulfill, you are likely to see even higher profit margins, not to mention the added bonus of being able to offer your customers free shipping.
Not only does the FBA Small and Light program include lower fees, but the way the fees are structured means that if a customer chooses to purchase more than one unit of your product in a single order, the potential for savings increases significantly. Here is an example of what this can look like: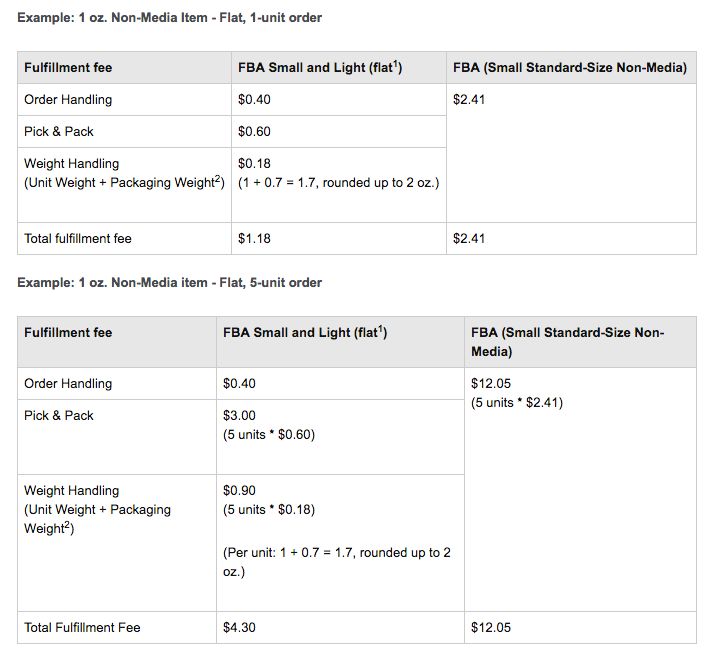 Image source (Seller Central login required)
Tips for Success
If you want to make the most out of the FBA Small and Light program, here are a few tips that will help set you up for success.
Price Competitively
As with any product you sell on Amazon, competitive pricing is a must in order to see the highest possible sales volume. Keep an eye on your competition and regularly evaluate and adjust your pricing as needed to remain competitive.
Manage Inventory Wisely (Don't Run Out of Stock!)
Running out of stock is a sure fire way to see your sales volumes plummet, and this is a downfall sellers don't easily or quickly bounce back from. Be sure you use a smart inventory management strategy, and take advantage of Seller Central replenishment alerts to avoid running out of stock.
Improve the Quality of Product Listings
The quality of your product listing goes a long way in making your product more competitive. Including great photos and product descriptions is a start, but having a large volume of product reviews will give potential customers the information they need to make a confident purchasing decision. With Salesbacker you can automatically send a follow up email to each customer who purchases your product to ask for their feedback in the form of a product review. All new Salesbacker users get a free 30-day trial, so be sure to sign up for this helpful tool today if you aren't already using it.
How to Enroll
Before you enroll your products in FBA Small and Light, be sure you meet all of the qualification criteria. In addition to the requirements for size (16" x 9" x 4" or less), weight (15 ounces or less), and price ($10 or less), products must meet the following requirements in order to qualify:
Products may not be hazardous or dangerous in any way. No adult materials allowed.
Products must not be temperature-sensitive (eg. no chocolates)
Products must be in new condition (no used goods)
Products must either be a brand new ASIN, or an existing ASIN with over 90 days of sales history and at least 10 units sold each month.
Products must have an FBA offer that is based on Amazon barcode tracking (manufacturer barcode offers are ineligible).
Products must be individually packaged in clear poly bags, or bundled together in clearly labeled quantities (see FBA Small and Light Prep Guide for more details on product prep and packaging guidelines)
Once you are sure your products meet the qualification criteria, you can kick off program enrollment.
Step 1: Enroll in FBA
Whether you've been selling on Amazon as self-fulfilled or you are a brand new seller, before you can enroll in FBA Small and Light you need to be enrolled in FBA. Get started with Fulfillment By Amazon (Seller Central login required).
Step 2: Select the items you want to enroll in FBA Small and Light
If you plan to sell your product strictly through FBA Small and Light, you can simply modify the existing offer for your product. If you'd like to sell your product through multiple channels (FBA Small and Light, as well as self-fulfillment and/or standard FBA) you will need to create a new offer.
Step 3: Enroll offers in FBA Small and Light
Follow the steps included in the FBA Small and Light enrollment guide to submit your offers for approval in FBA Small and Light.
Step 4: Send in your inventory
Prep your inventory according to the FBA Small and Light Prep Guide and ship to Amazon's dedicated Small and Light fulfillment center.
To Wrap it Up
The FBA Small and Light program is a helpful fulfillment option for many sellers who sell small, light, and inexpensive products and are looking for a way to improve profit margins. Whether small and light products are the bread and butter of your business, or you are just looking for a way to expand your product offerings and diversify your business, the FBA Small and Light program can be a practical and economical fulfillment option for sellers of all kinds.
Learn More
Visit these helpful links to learn more about the FBA Small and Light program: