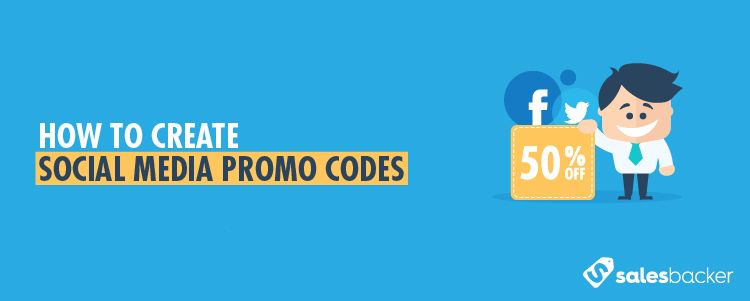 What are Amazon Social Media Promo Codes?
Social Media Promo Codes are one of the latest and greatest ways to boost sales of your products on Amazon. This promotion is available to sellers enrolled in the Amazon Brand Registry, or sellers with positive feedback ratings. With this marketing tool you can self-promote your products over social media and streamline the process of your customers receiving a great deal on your products. It is a win-win that will save you lots of time and generate a great experience for your customers.
This promotion type allows you to offer a percentage-off promotional price for your customers, which makes social media promotion and messaging easy. With this promotion you will receive a temporary marketing page in the Amazon store that allows you to highlight your products and automatically give customers the promotional price, without the need for them to manually enter in a promo code. Here is an example of what that marketing page looks like: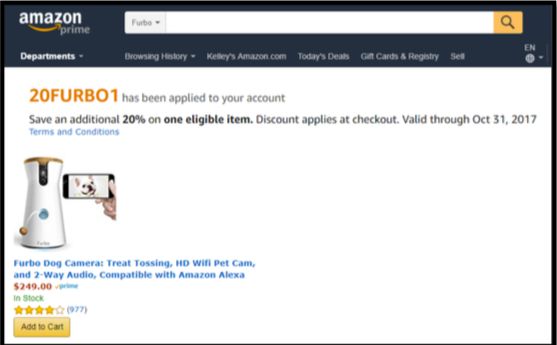 Benefits and Features of Social Media Promo Codes
Benefits
There are a lot of benefits to using Social Media Promo Codes for your Amazon products. Not only is the process completely self-serve, but it is also free and there are no limits on the number of promotions you can run. Social Media Promo Codes are a great complement to you overall marketing efforts through email, social media, or influencer sponsorships. At the end of the day, this promo type creates an easy way for you to send the traffic that you generate outside of Amazon directly to your products, allowing you to translate traffic into sales.
Features
With Social Media Promo Code promotions you receive a dedicated marketing page where you can send your customers, allowing them to automatically access the promotional price. This page is easy to share with customers and only features your products, whether your promotion is for a single product or multiple items. You have full control over the parameters of the promotion, from the discount percentage (which can range anywhere from 5% to 80% off), to the number of units a customer can purchase at the discounted price. The discount is only visible and accessible on the special Social Media Promo Code marketing page and is not visible on your standard product detail page, which means that you have more control over how you target the promotion, allowing you to market to specific groups of customers for each promotion you run.
Setting Up Social Media Promo Codes: A Step By Step Guide
Once you are ready to set up a Social Media Promo Code, you can follow this easy step by step guide to get started.
Step 1: Access Promotion Type in Seller Central
In Seller Central, click on Advertising > Promotions. Under the Create a Promotion tab, click on the Create button under the Social Media Promo Code type.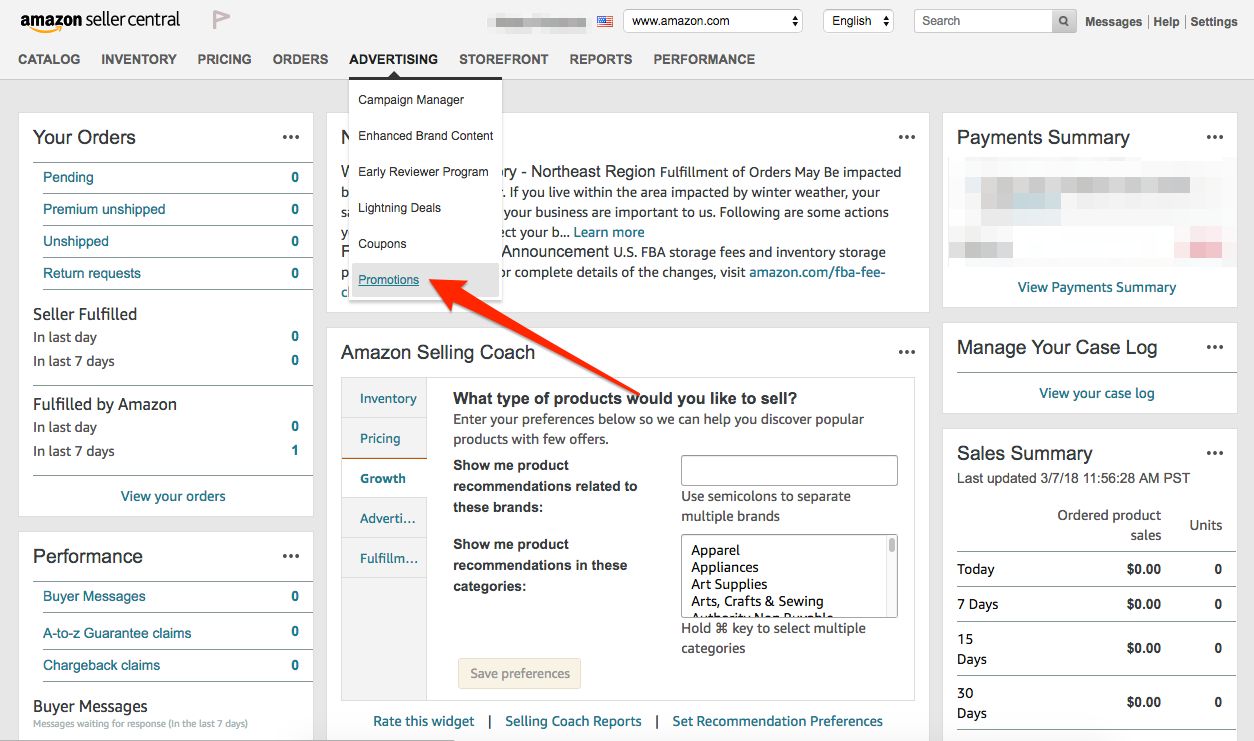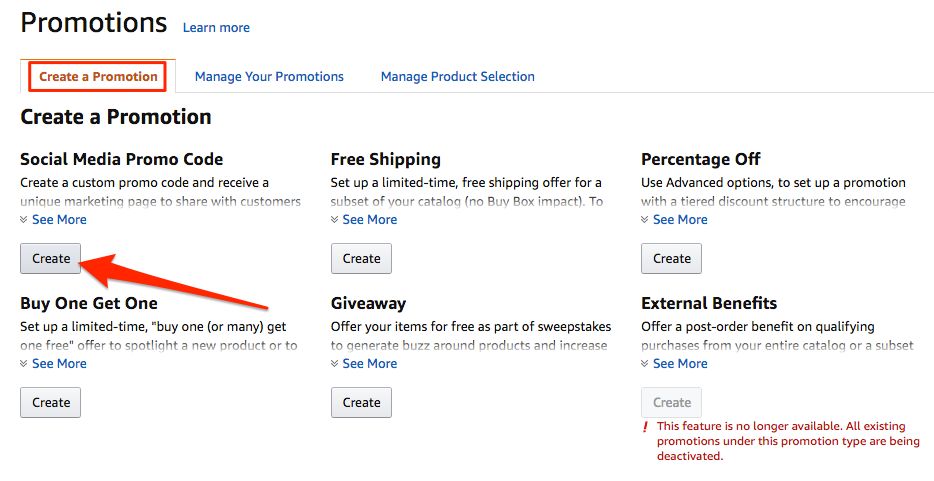 Step 2: Build Your Promotion
Follow the step by step process in the promotion builder to specify the details of your promotion. First, you will set the conditions of your promotion, starting by selecting the product to include in your discount. You can choose either a single product from the Purchased Items dropdown to include in the promotion, or you can create and name a selection of products to include in the promotion, which will generate a unique product selection to choose from the Purchased Items dropdown.

In this step you will also specify a percent off to apply to the promotion. You can choose a discount of anywhere from 5% to 80%.

Next, you will specify the dates and times that your promotion will run. Your promotion can last for one day up to 30 days. Note that the promotion start time must be at least 4 hours in the future. In this step you can also give your promotion a name for internal tracking purposes.

Finally, you'll have some additional options to specify for the promotion. Here, you can set the parameters for the number of redemptions each customer can make for the promotion. Your options are for one unit in one checkout, unlimited units in one checkout, or unlimited units in unlimited checkouts.

You can also create a claim code for your promotion, or opt to proceed with the automatically generated code that is auto-populated in the code field. Codes must always begin with the percent off, and then must be 8–12 characters long, including the 2-digit numeric code at the beginning.

Step 3: Submit for Review and Approval
Once you've built your promotion, you will click the Review button to submit your promotion for review and approval. Promotions are reviewed and approved within 4 hours of submission.

Sharing Your Social Media Promo Codes
Once your Social Media Promo Code promotion has been reviewed and approved, you'll be able to view the URL within your Seller Central account. Note that the marketing page is only accessible when the promotion is live. Once you have the URL you can share it via social media platforms, email, or other avenues. Here are a few examples of what it might look like to share the URL through social media: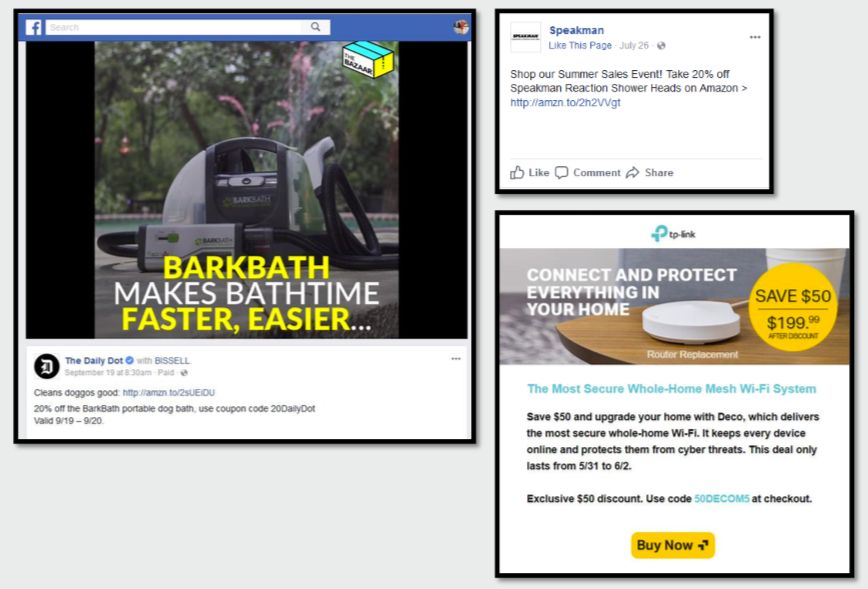 How it Works on the Customer Side
Here is a quick rundown of what the customer experience looks and feels like for this promotion type. It all starts when the customer sees the marketing and URL that you have shared for the promotion; something like this example below:

When the customer clicks on the URL, they are taken to the dedicated marketing page that Amazon has created for your promotion. As soon as the customer visits your dedicated marketing page, the discount is applied to the customer's account.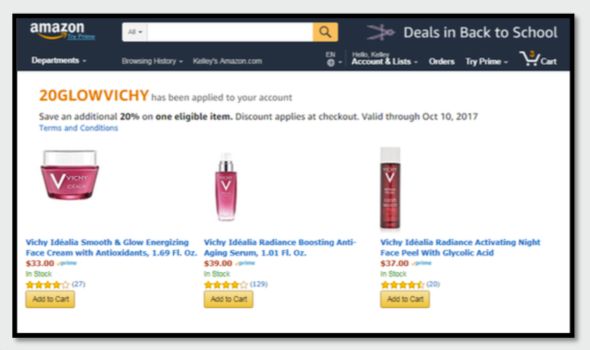 From here, the customer can click on and select the product they want to purchase at the discounted price. Once they check out, they'll see the discount applied to their order: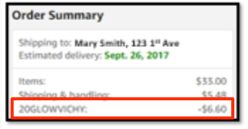 Best Practices
To ensure the success of your promotion, be sure to follow some basic best practices.
Check Inventory Levels FIRST
As with any promotion, before you run the deal be sure you have enough inventory on hand. Nothing kills the momentum of a deal faster than running out of stock, not to mention the hit to sales rank that your product will see even after the promotion ends.
Use Wording that Drives Action
In your marketing materials, be sure to include key phrases such as "limited time offer" or "while supplies last" to send the message to customers that they need to act fast.
Use a Targeted and Consistent Marketing Message
Be intentional about which customers you target, what messaging you use to communicate the deal to these customers, and the discount price and products included in the deal.
Also, be sure that all of the marketing materials for your Social Media Promo Code promotion carry a consistent, on-theme message. The details should consistently align in all messaging, including promotion dates, percentage off, and products included in discount. Remember, Amazon won't promote this deal for you, so if you want customers to know about it you need to be the one to tell them.
Check for Accuracy BEFORE Promoting Your Deal
Be sure to click on the URL to confirm the deal is live before you send out any marketing materials. Also be sure you are linking to the promotional URL and not your normal product listing URL.
Get Feedback From Your Customers to Improve Your Product Listing
Anytime you see a spike in sales you have the potential to get an increase in product reviews as well. Before you run a Social Media Promo Code promotion, be sure you are signed up for Salesbacker so you can automatically email each customer who purchases a product from you to ask them for their feedback in the form of a product review. The more product reviews your listing has, the more information future customers have at their fingertips to help them make an informed purchasing decision. If you aren't signed up for Salesbacker yet, you can get a free 30-day trial just for signing up.
Some Questions You Might Still Have...
In what countries are Social Media Promo Codes available?
This promotion type is currently only available to customers within the US.
What happens if the deal sells out?
Once a deal sells out the URL will expire and customers can no longer access the promotional page or receive the discounted price. Customers who click on the URL after it expires will be redirected to a page on Amazon where they can browse active deals.
I can't see this promotion type in my Seller Central account. Why?
Social Media Promo Codes are only available to sellers who are enrolled in the Amazon Brand Registry, or to Professional level sellers with positive feedback ratings. If you fall into one of these categories but still don't see the option to create this promotion type within your account, contact Amazon Seller Support.
To Wrap It Up
Social Media Promo Codes offer yet another level of flexibility and features allowing you to promote your Amazon products to potential customers. If you are looking for a way to easily promote your discount and give customers quick access to the promotion price on your products, this promotion is a great option. When combined with a targeted social media campaign these promotions can help drive sales and visibility to your product on Amazon.