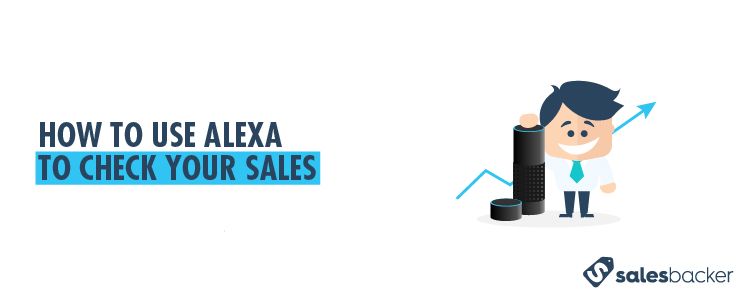 Amazon announced on February 1, 2018 that they launched a new skill for Alexa, one specifically designed to help Amazon Sellers manage their business. If you already have Alexa (aka Amazon Echo), then you know how easy it is to ask Alexa about random questions you may have; what time it is, what the weather forecast is, or how to make your favorite cocktail. Now, thanks to this new skill you can get quick updates on your Seller Central account to keep you informed on the status of your Amazon business and identify any action items you need to address.
How to Enable the Seller Central Skill on Alexa
If you have an Amazon Echo and a Professional Seller Central subscription, it is super easy — and free — to enable the Seller Central skill. Simply visit this page, and click on the Enable button on the right hand side of the screen.
You'll then need to click on the Link Account button to link to your Seller Central account. Note that this process requires that you have enabled pop ups for Amazon's site.

From here you'll be taken to a sign in page, where you'll enter the username and password for your Seller Central account. Note: before you login with your Seller Central account, be sure your Seller Central account is added as a user on your Echo device (visit this link for instructions and more information). When you've successfully signed into your Seller Central account, you'll see a screen that looks like this: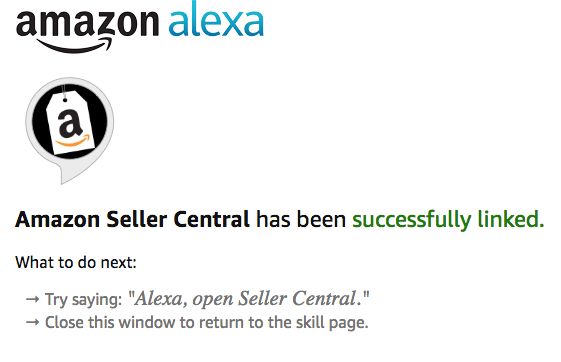 How to Use Alexa to Manage Your Seller Central Account
Now that you've enabled the Seller Central skill, you can use Alexa to help you manage your day to day business with Amazon. If you want to check in on your Seller Central stats, just say, "Alexa, start Seller Central." From here you can ask Alexa a wide variety of questions about your Amazon business. Here are a few examples:
Sales Information
If you want an update on sales, try saying, "How are my sales?" Or, if you are curious about a sales during a specific time frame, you can ask, "How were my sales were there yesterday/last week/last month?"
Buyer Messages
To get an update on the status of your buyer messages, simply ask, "Do I have any messages?"
Feedback
You can ask Alexa about feedback scores, as well as have her read specific feedback to you. Simply say, "How's my feedback?" or "Read my feedback."
Campaigns
If you are running campaigns for your products, you can check in on their performance by asking Alexa, "How are my campaigns performing?"
Manage Inventory
If you are wondering about inventory levels, ask Alexa, "How is my inventory?"
Payments
Wondering when you'll get paid, or how much the payment will be? Just ask Alexa, "When do I get paid?" or "How much is my current balance?"
Alexa as Your Virtual Employee
With the Seller Central skill on Alexa you can save yourself a trip to the computer or your Seller Central mobile app to get high level answers about the performance of your business on Amazon. This tool is just one more way to better manage your business and save yourself valuable time.
Work Smarter, Not Harder
If you are looking for a way to quickly grow the number of reviews for your products without dedicating hours of your valuable time, then you should definitely sign up for Salesbacker. With Salesbacker you can automatically email each customer who purchases your product to ask for their feedback, saving you tons of time and quickly growing the number of reviews for your products. Sign up today and you'll get a free 30-day trial.