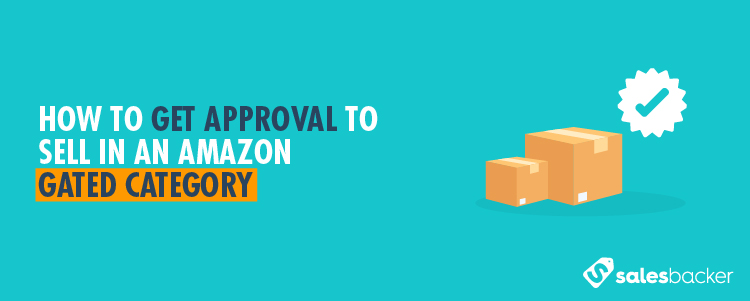 While the third party seller marketplace provides many benefits to Amazon and their customers, it also carries some big risks for a company as customer-centric as Amazon. If a customer shopping on Amazon receives a product that is poor quality, counterfeit, or unsafe the customer will blame Amazon — not the third party seller responsible for the product. In order to prevent these types of quality issues, and to protect the customer experience, Amazon has created an approvals process that third party sellers must follow in order to sell in certain categories. To see an overview of the full list of categories that have additional approval requirements click here. Please note you must be logged into Seller Central to access this list.
Subcategory Gating is the New Trend
Amazon is constantly refining their list of gated categories in an effort to improve the process and better meet their quality goals. In general, Amazon's strategy seems to be moving in the direction of gating particularly sensitive subcategories. For example, Health & Beauty is no longer a gated category, but the more sensitive subcategories under Health & Beauty are now gated (e.g. Topicals and Dietary Supplements). Amazon has not published a master list of gated subcategories, so there isn't a super quick way to figure out if a particular subcategory is gated or not. Before you decide to sell any product, it is a good idea to do a check in Seller Central to see if there are listing restrictions or if you need to apply for ungating. You can use the below process to identify current listing limitations for any products you want to sell:

Here is a non-exhaustive list of subcategories that are reportedly gated:
Baby Activity Gear
Baby Topical
Baby Car Seats
Baby Diapering
Baby Feeding
Baby Food & Formula
Baby Strollers & Carriers
Kids & Baby Furniture
Infant Toys
Toy Building Block
Learning Toys
Medical Devices
Contraceptives
Dietary Supplements
OTC Medication
Feminine Hygiene
Sports Nutrition
Topicals
A number of sellers have reported a $3,000 application fee for certain subcategory ungating approvals. Again, Amazon hasn't explicitly published anything about which subcategories have application fees or what those fee amounts are, but you should be prepared that this could be a factor in your application process.
Is it Worth the Hassle?
The approval process for gated categories and subcategories can be lengthy, difficult, and expensive. But the good news is that the approval process — and, in some cases, the corresponding application fee — tends to scare off less serious sellers. So if you are approved to sell in a gated category or subcategory you may see a lot less competition than what you would experience when selling products in ungated categories. If you are an established seller looking to grow your business in a significant way, this competitive edge could be just what you need to take your business to the next level.
Ungating Application: Fail to Plan, Plan to Fail
If you take the time to plan for and prevent potential hiccups or issues with your category ungating application, you can significantly speed up the process and avoid some costly and frustrating headaches. Hold off on purchasing any items to sell in a gated category or subcategory until you have done your homework and you have a good sense of what you are up against and how you will successfully meet all of the requirements.
Ungating Services — Should You Outsource Your Application?
As you are researching this topic you will probably run into business offering Amazon category ungating services, promising to manage the whole application process on your behalf and guaranteeing quick approval from Amazon. This might sound like a super attractive option, but usually the claims made by these companies are unrealistic. No service can guarantee ungating approval from Amazon — it is solely up to Amazon's discretion as to which sellers get approved. Given the complicated and potentially expensive nature of the ungating application process, this is not a time for outsourcing. It is best if you personally manage your application to ensure it is complete and meets all requirements, and to ensure that any issues with your application are quickly and accurately resolved.
Tips for a Successful Application
While you are doing your homework around the category ungating application process, keep in mind the below information and best practices. Heeding this advice will improve your chances for quick and painless application approval, with fewer bumps along the way.
Tip #1: Amazon Wants to Approve Established Sellers with Solid Reputations
You can attempt category ungating approval as a new seller, but you are way more likely to be approved if you have experience selling on Amazon. In some cases, if you are a newer seller applying for approval in a gated category Amazon will require you to have an established independent ecommerce site that they can review as part of their approval decision. So if you are brand new to selling on Amazon, it is often best to begin by selling products in ungated categories to build up your credibility and track record. This will go a long way toward increasing your chances for category ungating approval later on.
Tip #2: Don't Use Private Label Products to Apply for Category Approval
Use known brand items already available for sale on Amazon when applying for category or subcategory approval. Once you are successfully ungated you can then sell your private label products, but the application process will be much smoother and less risky if you use products that are already sold on Amazon.
Tip #3: Source From Reliable, Reputable, US-Based Wholesalers or Manufacturers
Amazon rarely accepts invoices from overseas manufacturers as part of a category ungating application. To avoid issues in this area, always source products in the US for use in your category ungating application. Purchase directly from a manufacturer if you can, as it shows Amazon that you carry a lower threat of inventory supply issues (as opposed to sourcing from a wholesaler who may run out of stock).
Tip #4: Pay Attention to Invoice Content and Format
When you submit your category ungating application you should include a copy of the actual paper invoice that came with your order. Handwrite the ASIN next to each item you are submitting as part of your application (or digitally annotate the copy if you prefer). Do not submit digital copies of invoices that are emailed to you after you place your order. Be sure you are providing a commercial invoice and NOT a pro forma invoice. Receipts are not going to cut it — you need to provide a legitimate invoice. Your company information listed on the invoice should be complete (name, address, phone number, website), and should be identical to what is listed in your Amazon Seller Central account. If there are discrepancies between the two you may run into issues with your application.
Tip #5: Invoice Quantities and Sellable Unit Quantities Matter
Be sure to read the fine print in the application requirements to ensure you meet any minimum quantity requirements for invoices and sellable units. Always meet or exceed these requirements for the best chances of approval. When in doubt, aim to provide at least three invoices per category, with a minimum of 36 sellable units per product.
Tip #6: Use Invoices with Recent Dates
Be sure your invoices are dated within the last 90 days. The more recent the invoice date, the better.
General Approval Requirements
Every category ungating application must meet all of the following requirements to be approved:
You Must Have a Professional Selling Account in Good Standing
If you are doing any sort of significant sales volume with Amazon, you are likely already spending the $39.99 a month for a professional account. If not, now's the time to upgrade.
Your Listings Must Meet Amazon's High Quality Standards
According to Amazon, a high quality listing includes all of the following elements:
A descriptive title
Inspiring product images
Clear and concise bullet points
Imaginative product description
A compelling price
Be sure to double check each of these elements within your listings, and ensure that in every case you meet or exceed the detailed listing quality requirements that Amazon outlines in Seller Central.
All Products Must Have UPC Codes
By choosing existing items from known brands for your ungating application, you'll meet this requirement without any issues.
You Must Have Top-Notch Seller Performance
Your Seller Performance metrics can literally make or break your chances for ungating application approval. Amazon requires the following performance metrics:
Order Defect Rate < 1%
Pre-Fulfillment Cancel Rate < 2.5%
Late Shipment Rate < 4%
You Must Comply With All Category-Specific Requirements
Carefully review all of the category-specific requirements well before you submit your application, and be sure to meet or exceed them all. Some examples of category-specific requirements include:
Data standards for product listing
Product condition requirements
Specific refund policies
Regulatory requirements
Preparation or packaging requirements
Shelf life requirements
Submitting Your Application
For the best chances at expediting your application review, try to submit early in the day during regular US business hours. If you receive any emails from Seller Central indicating issues with your application or requesting further information, plan to respond immediately to avoid any hold ups with your application.
Improve Your Listings By Increasing Customer Reviews for Your Products
No matter what category you sell in, one of the best ways to gain a competitive edge is to grow the number of customer reviews for your products. With Salesbacker you can automatically send an email to every customer who purchases your products, and politely ask them to provide feedback in the form of a customer review. Sign up for your free 30-day trial of Salesbacker and start growing the number of customer reviews for your products today.