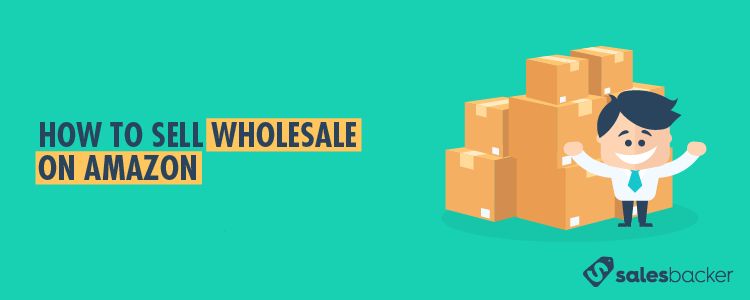 Selling Wholesale is just one more way to grow a successful business as a seller on Amazon. If you are curious about this business model and want to learn more about the ins and outs, read on.
How Does a Wholesale Model Work?
Before we get too deep into the nuts and bolts of selling wholesale, let's begin by looking at exactly how a wholesale model works when selling on Amazon. In a wholesale model, the seller purchases products in bulk directly from the manufacturer at a wholesale price and then makes a profit by selling the products on Amazon. Under this model you may be one of many sellers who sells the product on Amazon, or you may be the only seller offering this particular product in the Amazon store.
Similar to — But Different from — Retail Arbitrage
One of the biggest differences between a wholesale model and a retail arbitrage model is the time investment required in sourcing inventory, as well as the scalability of your business. Sellers who use retail arbitrage make a significant time investment when it comes to sourcing inventory, whether they purchase from online retailers or brick and mortar stores. With a wholesale model it is usually a pretty quick process to purchase inventory directly from the manufacturer, and even easier and quicker to replenish inventory. With retail arbitrage scalability can be difficult since you are always limited by inventory availability. The wholesale model does not present that same restriction since there is a consistent and reliable source for inventory replenishment. This means you can scale your business in a flexible and quick manner, increasing the amount of inventory you purchase as product demand grows.
Similar to — But Different From — Private Labeling
The greatest similarity between a wholesale and private label model is the reliability of inventory sourcing and the scalability potential that comes from sourcing directly from a manufacturer. But the main differences between selling wholesale and selling via private label is the ramp up time, as well as the amount and type of competition you'll face once your product is available for sale. With a wholesale model, you already have an established customer base since you are selling a product from a known brand. This can greatly reduce the amount of time it takes to ramp up your business on Amazon. With private label products you own the brand, which means the ramp up time can be lengthy since it consists of working with a manufacturer to develop, modify, or improve upon a product. Once the product is finally manufactured, you then have to grow a customer base from scratch since your brand won't hold sway in the same way that mainstream brand names do.
But while a wholesale model might have a quicker ramp up time than with a private label, you are looking at potentially fiercer competition since you are competing not only for the customer, but potentially with other sellers in an effort to win the buy box. With private label products you are the only seller offering this exact product, so you only compete for the customer, never for the buy box.
The Benefits of Selling Wholesale
Selling wholesale on Amazon has multiple potential benefits, including:
Established Customer Base
Because you are selling a product from a known brand, you can immediately benefit from the existing customer base that the brand has established. Customers already know about this product, like it, and want to purchase it. And in some cases, an Amazon listing — along with product reviews — already exists, saving you the time and work of creating a listing from scratch.
Reliable and Efficient Inventory Sourcing
With a wholesale model you can rest assured that as long as the product is produced by the manufacturer, you'll be able to source it… unlike with retail arbitrage where you are a slave to the pricing practices of retailers.
Scalability
If an item is selling particularly well, you can quickly and easily increase your inventory to keep up with customer demand.
Amazon Brand Approval
When you have brand approval to sell on Amazon you will see reduced buy box competition, and in some cases this can even result in exclusive selling rights on Amazon.
Lower Risk (in Some Ways)
A wholesale model is, in some ways, a less risky business model than retail arbitrage or private labeling. Since you aren't the brand owner you don't carry the risk, responsibility, and liability that comes with manufacturing a product and creating a brand. Instead you are selling products that have proven reputations, and you can focus solely on the work of selling the product.
Also, with a wholesale model you don't carry the risk of your seller account being permanently suspended due to customers submitting inauthentic product complaints, since you source the inventory directly from the manufacturer and you can provide Amazon with the relevant evidence (receipts or invoices) to prove it. With retail arbitrage, you have the retailer as a middleman, so if there is anything unclear about the receipt or questionable about the retailer, then Amazon may not find your evidence of authenticity to be acceptable and your account could be permanently suspended. And of course with retail arbitrage there is always the risk that you won't be able to find inventory to sell, which is something you don't have to worry about with a wholesale model.
What it boils down to is that a wholesale model has greater stability than a retail arbitrage model, and fewer moving pieces and potential pitfalls than private labeling.
The Challenges of Selling Wholesale
Along with the benefits of selling wholesale, there also come challenges. You'll want to carefully consider these challenges and work to mitigate these risks if you do decide to pursue a wholesale business model.
Finding Products That Aren't Already Sold on Amazon
If you can find a product that isn't already sold on Amazon then you have a chance to establish yourself as the exclusive seller. This gets harder and harder as selling on Amazon becomes so ubiquitous.
Finding Products Where You Can Successfully Compete with Other Sellers
The other approach is to find a product that sells well on Amazon, where you feel confident that you'll be able to win the buy box often enough to secure a certain percentage of the total sales of that product. This can be tricky though, and if you aren't careful you'll end up eating into your profits due to pricing wars with other sellers.
Successfully Landing Wholesale Accounts
If you are a newer seller without much of a track record, you will likely face an uphill battle when it comes to getting approved by brand owners to sell their products wholesale.
High Order Quantities
The high order quantity that manufacturers require means you'll not only need to make a significant upfront financial investment in inventory, but you'll carry all the risk that comes with having high inventory levels on hand.
Wholesaling Best Practices
If you do decide to try out the wholesale model on Amazon, here are a few best practices to set you on the path to success.
Find the Right Products
There are a few ways to go about finding products that will work well under a wholesale model on Amazon. Here are some tips to get you started:
Product Sourcing Tip 1: Go to Trade Shows
Trade shows give you a way to very efficiently have a lot of face-to-face conversations with brand owners and seek out new products that might do well on Amazon. Plus, you can learn a lot about what these brands care about, their experiences selling on Amazon to date, any pain points, and what you can potentially bring to the table as a third party seller.
Trade shows also give you the chance to share your elevator pitch with brand owners as to why they should consider making you an exclusive seller of their product on Amazon. If the brand has multiple sellers selling their product on Amazon, they have likely run into issues with multiple sellers driving down the selling price on Amazon. This can create a big mess for the brand, devaluing their product and angering brick and mortar retailers who can't afford to compete. But as the exclusive third party seller on Amazon, you can stabilize pricing and instead focus on optimizing the listing, testing out pay-per-click advertising, getting more product reviews, etc.
Trade shows also give you the chance to pitch Amazon as an additional sales channel to brands who aren't yet selling on Amazon. If you can present yourself as a knowledgeable Amazon seller and give these companies an effortless way to sell get their products up and running on Amazon you might be able to set yourself up as the exclusive seller. These scenarios will present a little more upfront work since you'll be creating the listing from scratch, but the payoff could be huge if all goes well.
Ultimately, trade shows give you the opportunity to learn about the brands you want to sell, and quickly make contact with many key individuals within these businesses.
Product Sourcing Tip 2: Research Using Brand Websites and Product Packaging
For products that aren't yet sold on Amazon, you can let your fingers do the walking and track down contact information through the brand's website and/or product packaging to start a conversation about selling their products on Amazon. This method might not produce results as quickly as face-to-face conversations at a trade show, but it can certainly work, particularly if you have a compelling and thoughtful sales pitch.
Product Sourcing Tip 3: Look at Best Selling Products on Amazon
The good news about selling products that are best sellers on Amazon is that you know there is significant customer demand. You only have to win the buy box a percentage of the time to make money on best selling products. When you are researching these products avoid products where pricing wars are common among sellers, because this will eat into your profits. Also, avoid going after products that are sold by Amazon — Amazon will almost always be able to negotiate a way better price from the manufacturer than you can, and you'll have a hard time competing as a result.
Manage Inventory Carefully
One of the biggest risks that comes with selling wholesale on Amazon is the risk associated with carrying large quantities of inventory. This is particularly difficult when you first get started with selling a product on Amazon, since you don't yet know how quickly the product will sell. Smart inventory management practices will be your ticket to avoiding costly storage fees from products that are sitting in Amazon's warehouse.
If You Are the Exclusive Seller: Optimize Your Listings
In any scenario where you are the exclusive seller of a product, you want to be sure the product listing is optimized. This means carefully crafting the product description, using professional-quality product images, and having a significant number of product reviews. Be sure to use Salesbacker to automatically email each customer who purchases a product from you to ask them to leave a product review. You'll get a free 30-day trial when you sign up.
Learn From The Pros
As you are considering whether or not to sell wholesale on Amazon, be sure to do your research and learn from sellers who have had success with this model. A great place to start is by checking out these episodes of the SellerCast podcast:
To Wholesale, or Not to Wholesale?
While there are definite pros and cons to selling wholesale on Amazon, at the end of the day only you can decide if this model makes sense for your business. Consider the pros and cons, as well as your skill set, interests, business goals, and resources.