The Amazon FBA Calculator is a helpful tool that calculates margin and clearly breaks out the fees associated with selling products with Fulfillment By Amazon (FBA). Whether you are researching potential products to sell on Amazon and looking to understand margin potential or wanting to make the switch from a merchant fulfilled model to FBA, knowing how to use this calculator will come in handy.
When to Use the FBA Calculator
One of the most helpful times to use the FBA Calculator is when you are researching new products to sell on Amazon. Not only can you use this tool to get a sense of the potential profit margin you can expect when selling a certain product, but this tool gives you a clear picture of what the FBA fees actually would look like for that product on a per unit basis. Another great way to use this calculator is to get a clear picture of the margin impacts from raising or lowering the sale price or product cost on an item. You can use this information when determining what sort of product cost budget range you need to stick to, or to determine your minimum customer price in order to remain profitable — as well as what kind of margin you could potentially see from a higher customer price. The FBA Calculator can also be used if you are considering a switch from a merchant-fulfilled model to FBA, since it gives you a clear side by side comparison of costs and margin under each model.
Which FBA Fees Are Included in Amazon's FBA Calculator?
There are a lot of different fees associated with FBA, and without a tool like the FBA Calculator it can be really difficult to get an accurate sense of what FBA actually costs. That said, it is important to be clear on which FBA fees the FBA Calculator includes and what those fees represent so that you can feel confident in the information you are getting from this tool.
FBA Fees Included in the FBA Calculator
Selling on Amazon Fees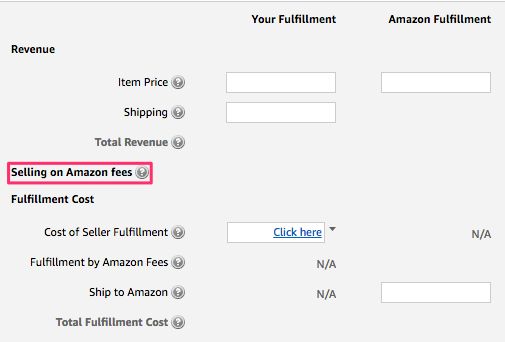 The Selling on Amazon fee is made up of two parts — the referral fee, and a variable closing fee (where applicable). The referral fee is basically just the charge for selling your item on Amazon. This fee is calculated as a percentage of the sale price or a minimum dollar amount, whichever is greater. The percentage of sale price varies by category, although 15% is the most common rate. The minimum dollar amount is almost always $1.00. The referral fee is category-specific, and certain categories have higher or lower fees. The variable closing fee only applies to media products such as books, music, videos, DVDs, video games, consoles and software (BMVD products).
Fulfillment By Amazon Fees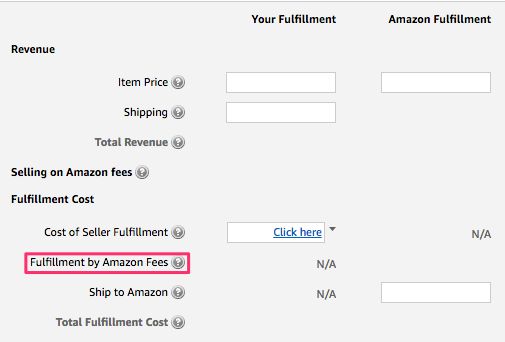 The Fulfillment by Amazon Fee is calculated based on the dimension and weight of the item. This fee includes two components — a fulfillment fee, and a monthly storage fee. The Fulfillment Fee covers the costs of labor for pick, pack, and ship, packaging supplies (boxes, labels, dunnage), shipping to the customer, and customer service. The Monthly Storage Fee is calculated based on the volume of the product (in cubic feet).
An Example: Using the FBA Calculator to Research Products to Sell on Amazon
Now you that you have a sense for what types of fees that the FBA Calculator includes and what those fees represent, let's see what these calculations look like in real life. Let's start by using this grill brush as an example product: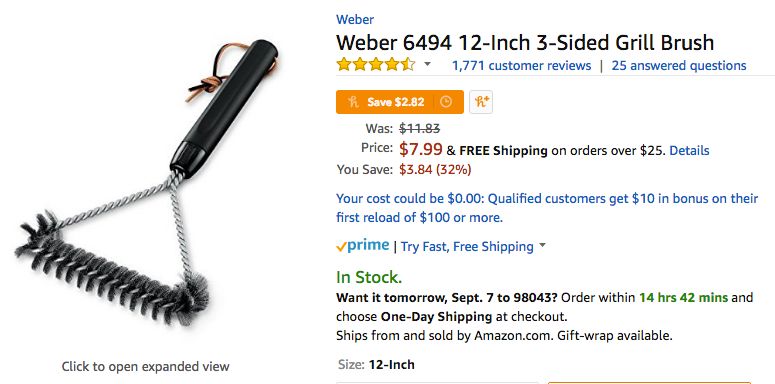 Step 1
The first step when using the FBA Calculator is to input an identifier to pull up the product you are researching (you can use the ASIN, EAN, ISBN, or search term).

Step 2
Once you've pulled up the product, you can begin inputting values in the fields in the Amazon Fulfillment column to calculate margin for that specific product. The first value to input is the Item Price. You can research similar products to get a sense of price range, and play around with this value to see what kind of margin impact you get from raising or lowering the price. For the sake of this example, we'll use a sale price of $12.99.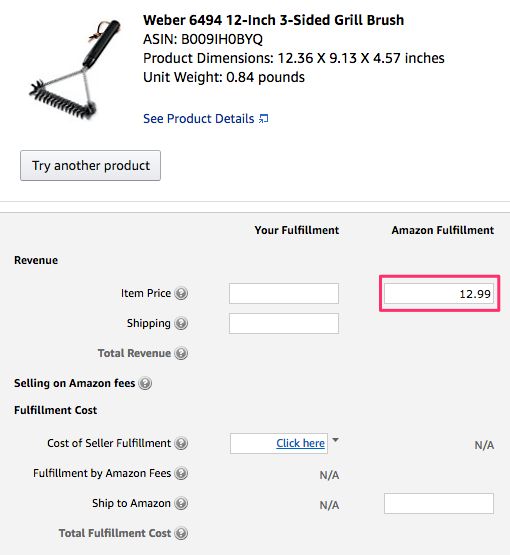 Step 3
The next field you will fill in is the Ship to Amazon field. If you already sell products on Amazon you may have a sense for what the average per unit price is to ship your products to the Amazon warehouses (this will vary based on the size and weight of the product as well as the quantity you ship at any given point in time). This is another field where you can experiment with using a range of costs to see what the margin impact would be. Or you can also leave this field blank, but if you do be sure to keep in mind that you will see additional costs and margin impacts from your shipping expenses. For this example, we will use a shipping cost of $0.40 per unit.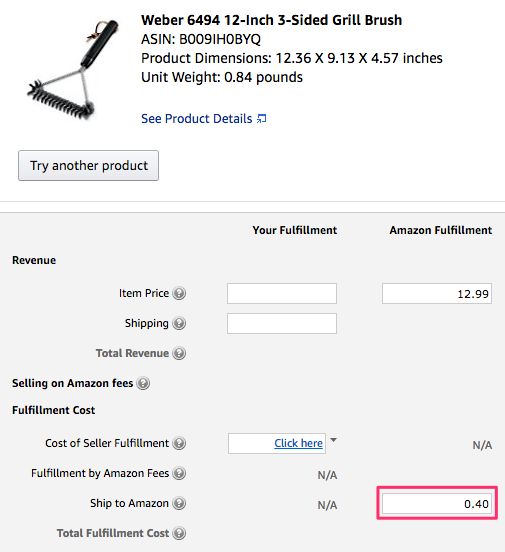 Step 4
The final field to complete in the calculator is the Cost of Product field. This is where you will put in your per unit cost to purchase this product from a manufacturer or wholesaler. Keep in mind this should be an "all in" cost, including any costs for packaging materials, overseas shipping, customs, or other expenses related to purchasing this item. For this example we will use a value of $3.50. Once you've input this value you can click the "calculate" button.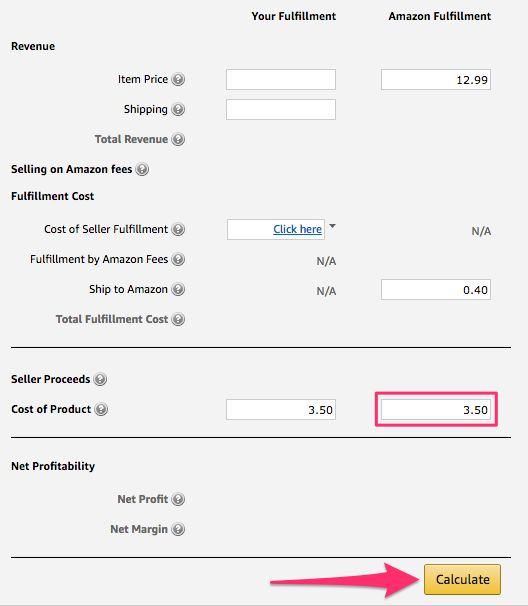 Results
From here, the calculator will give you net profit and net margin for the product, based on the values you input. You'll notice that Selling on Amazon fees have been calculated, as well as Fulfillment By Amazon fees, giving you a Total Fulfillment Cost.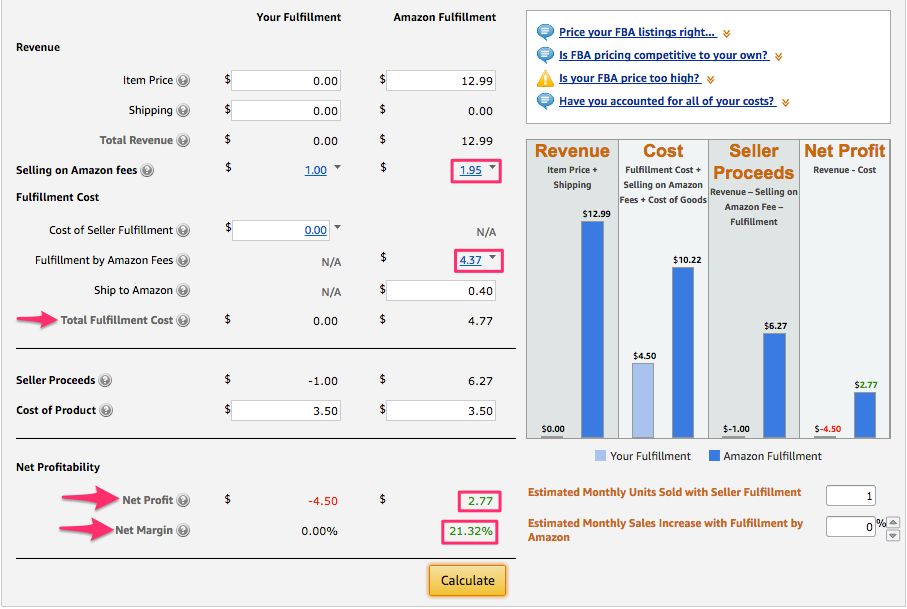 The calculator also produces a series of bar graphs on the far right of the screen, giving you a visual representation of the revenue, cost, seller proceeds, and net profit.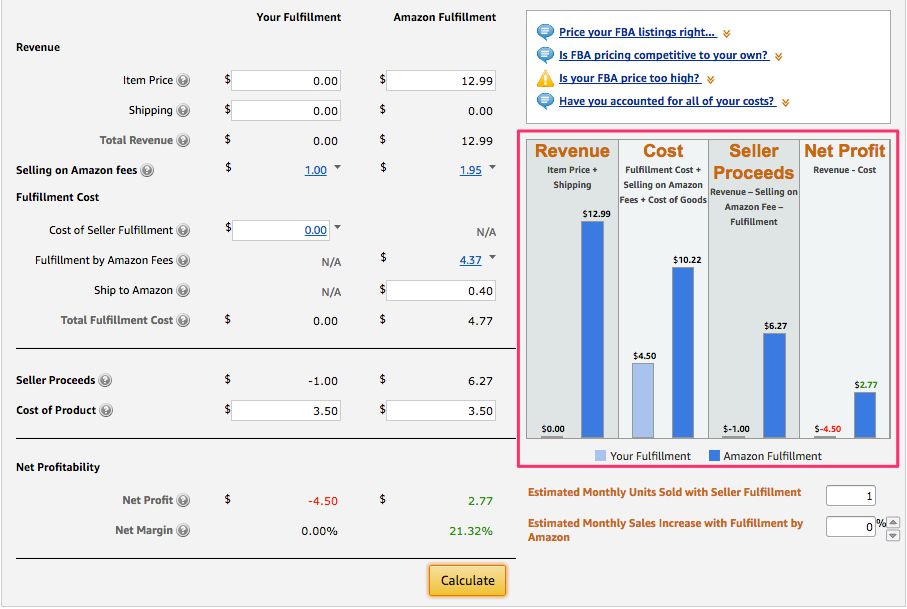 Using the Calculator to Understand Margin Impact
This calculator gives an easy and quick way to understand the margin impact from various business decisions. Say you decide to lower your customer price in effort to be more competitive — if you want to have a clear sense of how low you can go while still remaining profitable, you can quickly determine this by using the tool.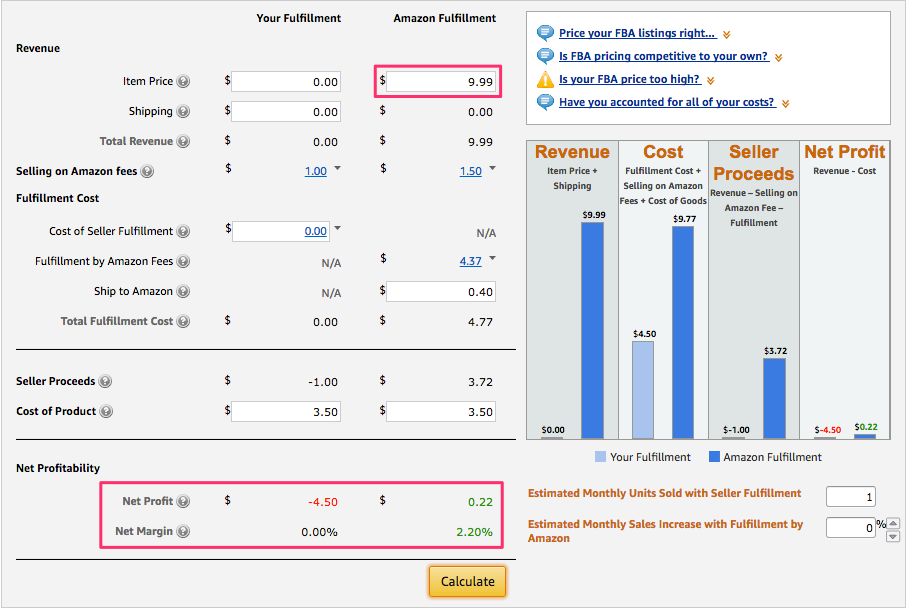 You can also use this calculator to play around with the Cost of Product to understand the margin impacts from lower or higher product costs.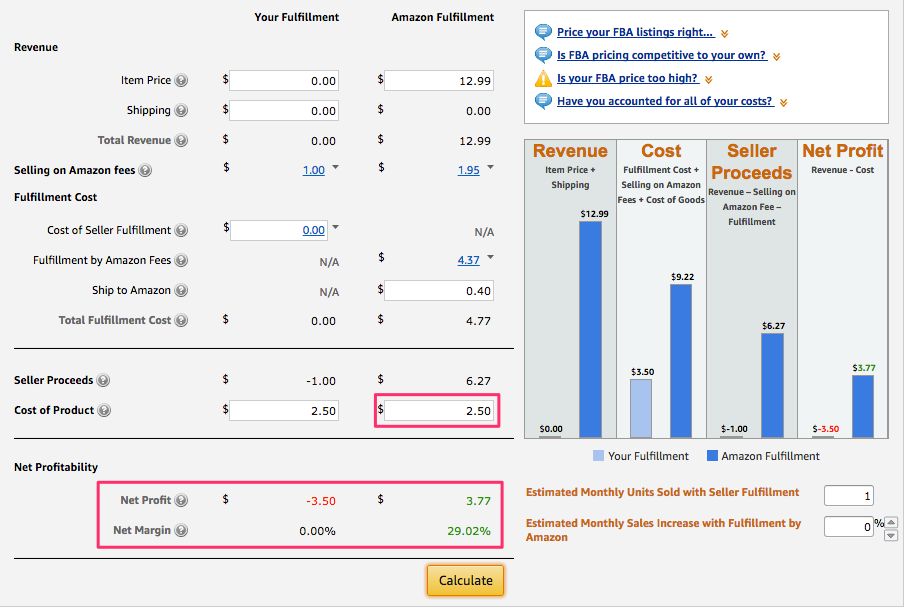 FBA Fees NOT Included in the FBA Calculator
While the FBA Calculator is a great tool for estimating costs, you should be aware that these costs aren't necessarily all-inclusive. There are other FBA fees that only apply in specific circumstances, so it is really important to understand what those fees are and under which circumstances they would apply in order to avoid any unpleasant surprises along the way. These fees are outlined and explained below.
Long-Term Storage Fees
Twice a year, inventory in Amazon fulfillment centers is assessed a long-term storage fee in addition to the monthly storage fee. So, if you order a lot of product and it doesn't sell quickly, these fees could definitely eat into your margins significantly.

Returns Processing Fees
A returns processing fee is charged for orders for which Amazon offers free return shipping (Apparel, Watches, Jewelry, Shoes, Handbags, and Sunglasses, Luggage). The fee is equal to the total fulfillment fee for the product. Keep this in mind if you choose to sell an item in one of these categories.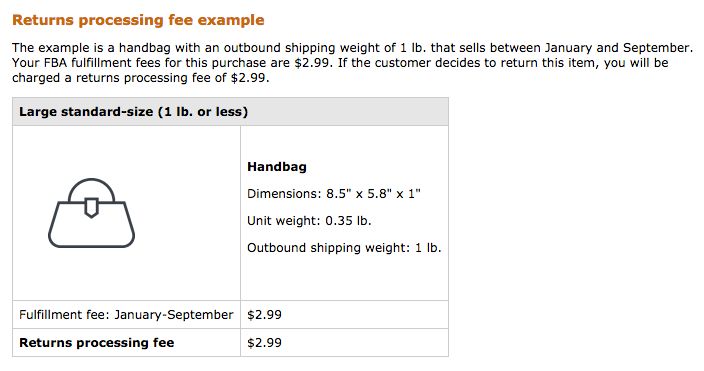 Unplanned Service Fees
When inventory arrives at a fulfillment center without proper preparation or labeling, Amazon performs service for you. A per-item fee applies. For your first shipment, Amazon offers lower fees, but if you make repeat errors on future shipments then these fees double. So be sure that you have followed all of the requirements for product prep and labeling — otherwise you should include these fees in your product cost so that you can get an accurate margin calculation.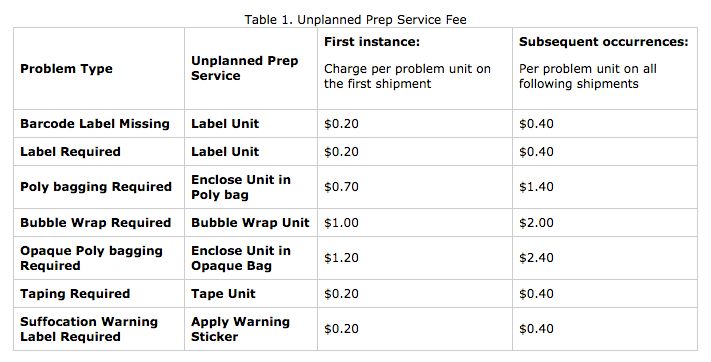 Removal Order Fees
In the event that you need to have product returned to you from the Amazon warehouses, there is a per unit charge to be aware of. There are also fees associated with disposal or liquidation of your products, once they are in the Amazon warehouses.

Grow Your Sales By Growing Customer Reviews
A high per-unit margin is great, but if you only sell a few units you aren't going to see much money. Having a large number of customer reviews for your products is one of the best ways to grow your sales volumes. Salesbacker offers an easy and effective solution to increase the number of customer reviews for your products by automatically emailing a customer any time they purchase your product to ask them to provide feedback in the form of a customer review. Sign up for your free 30-day trial of Salesbacker to start growing the number of customer reviews for your products today.