While selling private label products comes with a long list of benefits and advantages, the biggest hurdle you are up against is that of establishing your brand as a legitimate competitor with other more household brand names.
Amazon also has a vested interest in helping successful third-party sellers to establish and legitimize their brands. Very simply put, the reputations of the brands sold on Amazon impact Amazon's own brand reputation. If customers visit Amazon and find sketchy-looking products sold by brands they've never heard of, Amazon could get a reputation for selling low-quality or poorly-vetted products. But by giving third-party sellers a structured way to improve their brand presence and reputation, Amazon also is able to vet these brands to ensure that quality brands have access to the best features and tools.
This is where Enhanced Brand Content (EBC) comes into the picture. EBC offers some serious perks to third-party sellers looking to improve the look and feel of their product detail pages, helping your brand to stand out to potential customers. And not only does EBC give sellers tools to legitimize their brands, but having EBC on a product detail page has been shown to increase sales by 5% or more in the first year by attracting more customers.
Before we get into all the details on EBC, be aware that EBC is only available to sellers who are enrolled in Amazon's Brand Registry. So, be sure to get the ball rolling on that important prerequisite if you haven't yet done so.
What is Enhanced Brand Content (EBC)?
EBC is essentially a series of templates that sellers can use to customize the look and feel of product detail pages, allowing sellers to add additional information, pictures, and brand details in effort to increase customer engagement, establish a brand as legitimate and professional, and ultimately to increase sales.
Here's a great example of the impact of EBC on a product detail page.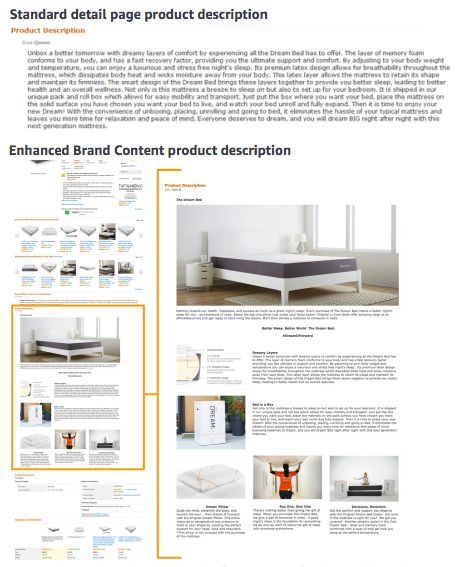 Even the most effectively written product description cannot compete with the images, graphics, and eye-catching detail that an EBC product description provides. As you can see, having EBC is a great way to make sure you are keeping up with, or surpassing, the top brands on Amazon.
Why Should You Add EBC to Your Product Detail Pages?
There are many reasons why adding EBC to your product detail pages is a smart move.
Increase Conversion
EBC is a great way to encourage customers to purchase your products. If a customer doesn't recognize your brand name but sees a professional and informative detail page, they will feel more confident in the quality of the product based on the quality of the detail page.
Drive Traffic
Adding EBC to a detail page can improve search ranking for your product, making it more likely a customer will come across your product while searching.
Increase Sales
As mentioned before, products with EBC detail pages see at least a 5% increase in sales in the first year of adding the EBC content.
Reduce Customer Returns and Negative Reviews
The more information you give a customer before they purchase your products, the more likely that customer is making an informed purchasing decision and have realistic and accurate expectations for what the product is as well as the features it offers. This means you are less likely to see returns from customers who thought that your product was something it is not, and you are less likely to see negative customer reviews because, again — your customers are well informed about your product before they ever click the buy button.
Encourage Repeat Purchases
By sharing more information about your brand through EBC, customers are more likely to explore the other products your brand offers, as well as to purchase from you again in the future. Ultimately EBC encourages brand loyalty.
Making the Most of EBC
If you want to see the greatest possible impact from adding EBC to your detail pages, be sure to approach this feature with careful and smart strategies. Here are some tips to get you started as you consider the best way to use EBC for your brand.
Add EBC to All of Your Products
If you add EBC content to all of the ASINs within your brand at once, you'll see the greatest impact, since the changes will be brand-consistent.
Partner EBC with Sponsored Products, Deals, and Salesbacker
If you are running any pricing promotions or Sponsored Product campaigns, be sure that you have EBC content on the detail pages for those products to increase the chances of landing the sale.
Another great way to encourage customers to purchase your products is by using Salesbacker, a helpful tool for increasing the number of product reviews for your products. When your product listings have a significant number of product reviews it gives potential customers even more compelling information to encourage them to choose your product over the competition. With Salesbacker you can automatically email each customer who purchases your products, giving you the opportunity to ask the customer to provide a product review. If you aren't already using Salesbacker, be sure to sign up for a free-30 day trial.
Use Simple, Clear Messaging
While EBC offers a lot of ways to add information to your product detail pages, be sure to keep messaging and content simple and clear. Too much text or information can be overwhelming to a customer or cause the most important information to get lost.
Use Quality Product Images to Feature Product Details
Always use images that are professional looking and that give customers more information about the product features.
Know Your Customer
Successful use of EBC will mean giving customers the information they need to push them past their purchasing barriers. What might cause a potential customer to feel hesitant or unsure about purchasing your product? Use EBC to match those questions with solid information, so that customers will move past their hesitation to click the buy button.
How to Add EBC to Product Detail Pages
Eligibility Requirements
Before you can get started on implementing EBC for your detail pages, you need to first be enrolled in Amazon's Brand Registry. This program comes with other perks beyond access to EBC, so is certainly worth the time and effort involved in signing up. Be aware that successful enrollment in Amazon's Brand Registry requires possession of a registered trademark for your brand. So, if you haven't gotten a trademark be sure to do this in advance of enrolling in the Brand Registry.
Step 1: Navigate to EBC in Seller Central
Select Enhanced Brand Content from the Advertising dropdown in Seller Central.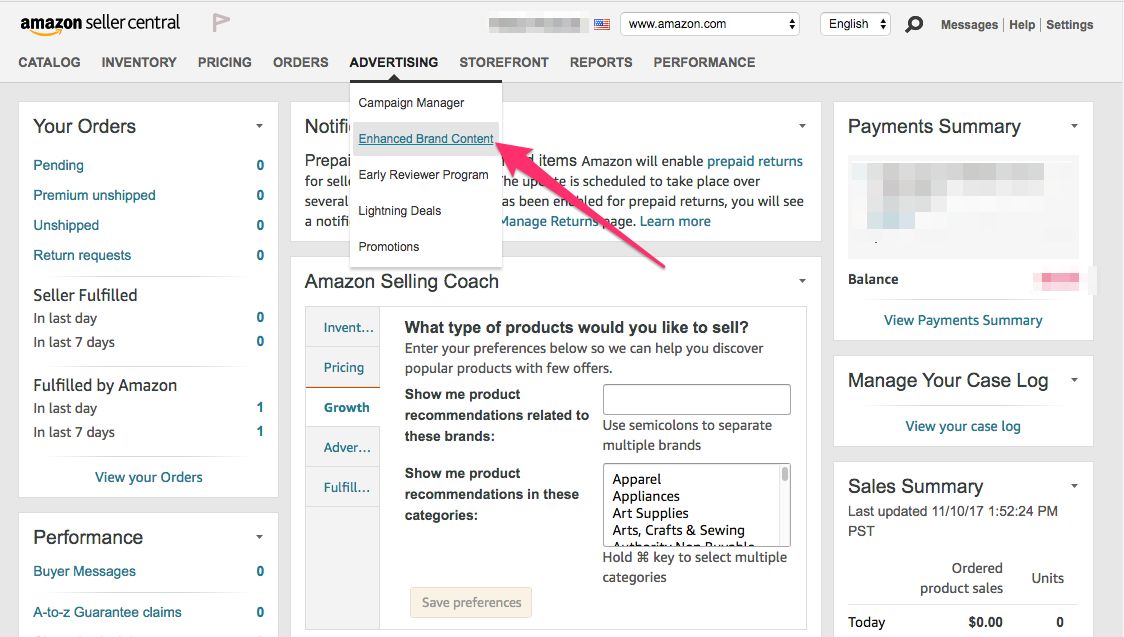 Step 2: Enter Product SKU
Keep in mind that when parent SKUs are added to EBC the formatting will publish to all children products as well.
Step 3: Select Template
There are five different template choices from which to select. Click on the template that best fits your visual preference.

Step 4: Follow Formatting Prompts
You will be able to add images as well as text, based on the template format you have chosen.
Step 5: Preview the Page
You'll get a chance to see what the page looks like before you publish, allowing you to go back and make changes as necessary.
Step 6: Submit Page for Approval
Once you have your page looking like you want, you must submit your page to Amazon for approval before the changes will publish to your detail page. To improve the chances of your page getting approved, be sure the page is free from spelling or grammatical errors, that all images are clear and do not contain text, and that your page does not reference specific pricing or promotion details. Once approved, the page will be auto-published by Amazon within 7 days. If the page is not approved, you'll see a status of "rejected" next to the SKU on your EBC dashboard.
Step 7: Make Any Necessary Changes
If your page was not approved, you can make changes to meet Amazon's requirements and resubmit for approval. When you click "edit" on the page, at the top of the screen you'll see an explanation for why the page was not approved, assisting you in the editing process.
To Wrap it Up
Using EBC is an effective — and free — way to improve brand awareness and grow your sales on Amazon. Be sure to take advantage of this helpful tool, and pair EBC with other smart strategies to see the greatest impact to your business.