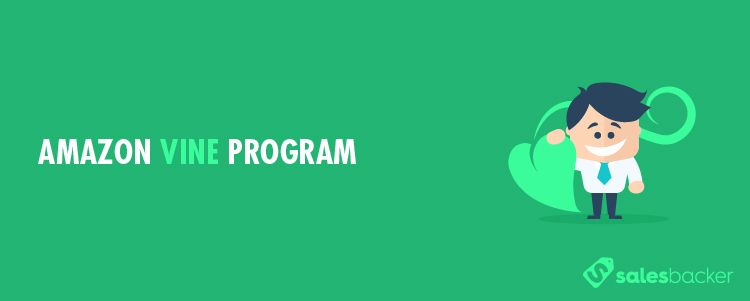 If your business is planning to launch a new product on Amazon or is looking for a way to boost the visibility and sales of an older product, you know that customer reviews are a key factor in growing your sales on Amazon. In the past many businesses would choose to give away free products in exchange for the recipient's product review in order to quickly increase the number of product reviews for a listing. While this strategy was successful in some ways, these types of reviews quickly gained a reputation for being less than helpful to customers since they so often skewed positive and could potentially be biased. Because of this trend, Amazon decided to change their policies and ban any product reviews received in exchange for free goods, with one notable exception — the Amazon Vine Program.
What Is Amazon Vine?
Amazon Vine is a product review program created and managed by Amazon. Amazon invites a select group of customers into their "Vine Voices" program, based on the customer's strong reviewer ranking. Reviewer ranking is determined by the number of product reviews a customer posts over a period of time as well as votes from other customers indicating that this particular reviewer provides helpful and trustworthy product reviews. Vine Voices participants receive free products in exchange for their unbiased and honest product reviews.
Amazon Vine is currently only available to businesses through Vendor Central. Vendors who participate in Amazon Vine submit their products to Amazon for review through Vine Voices. Because the vendors have no interaction with the Vine Voices reviewers Amazon is able to maintain a level of trustworthiness in their review process. Vendors cannot influence Vine Voices reviewers to persuade or influence reviewers to skew the reviews in their favor. Amazon also does not change or edit the reviews in any way (the one exception being reviews that are not in compliance with Amazon's posting guidelines).
How Much Does Amazon Vine Cost?
For businesses looking to obtain reviews through Amazon Vine, products can be submitted into the Vine Program by paying a fee typically ranging from $2,500 to $7,500 per ASIN. The program rules restrict the number of free products a business can submit for reviews, with anywhere from 10 to 100 units per ASIN being allowed for submission depending on the product category.
Customers who want to become members of Vine Voices can only do so via invitation from Amazon, based on reviewer ranking. The program is not something that customers can pay to participate in.
Amazon Vine: The Pros
For vendors, the main allure of the Amazon Vine program is that it gives businesses a relatively quick way to add product reviews to a listing. Many businesses opt to participate in Amazon Vine just before launching a new product so that by the time the product is made available to customers to purchase there are already product reviews included in the listing. Amazon Vine can also provide a helpful injection of product reviews to boost sales for older listings that have become stagnant or have less-than-expected sales results.
Another benefit of Amazon Vine is that the reviews tend to carry a bit more weight in the eyes of potential customers, since the customers who participate in Vine Voices are seen as "expert" reviewers. Customers who participate in Vine Voices have a special badge next to their usernames that identifies them as a Vine reviewer.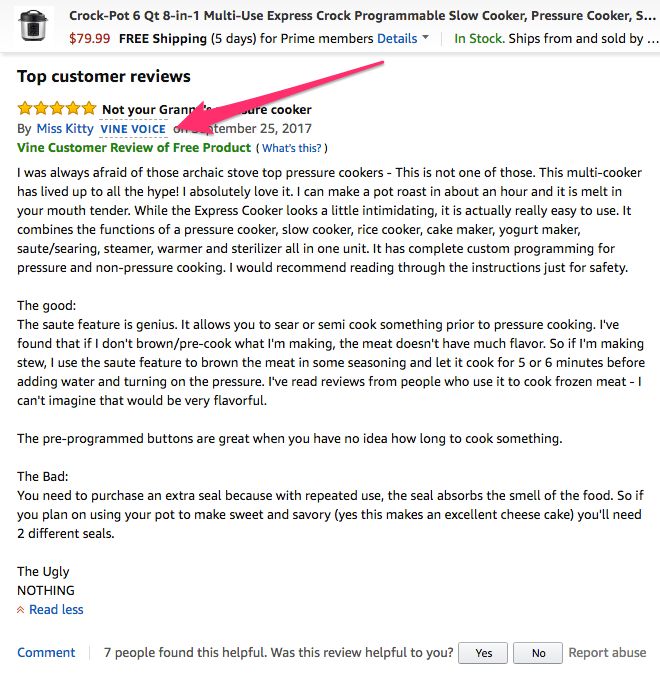 Amazon Vine: The Cons
There are a few significant downsides to the Amazon Vine program as it exists today. Obviously the first downside is the price — due to the pay-to-play nature of the program and the high per-ASIN fees, Amazon Vine is not really a feasible option for smaller businesses who don't have major cash to invest in marketing. Also, because Amazon limits the number of free units that a business can provide in exchange for reviews, the price paid for each review can be incredibly high.
Another major downside to the Amazon Vine program is that it is only accessible via Vendor Central. Businesses who participate in Seller Central do not have access to the Vine program, and in many cases the switch to Vendor Central may not make sense for these businesses, for a variety of reasons.
In a nutshell, Amazon Vine is really only a viable option for companies who already use Vendor Central and who are large enough to have significant marketing budgets.
An Alternative to Amazon Vine
While Amazon Vine certainly has it's appeal, it also comes at a super steep price and is only available to businesses who use Vendor Central. So, as a seller launching a new product or looking to boost sales for an existing product, if you can't afford to participate in Amazon Vine or don't want to switch from Seller Central to Vendor Central, what options do you have?
Amazon has a relatively new service called the Amazon Early Reviewer Program, but there are some added costs and limitations to the number of reviews you can earn using this program.
A better option for businesses who can't use Amazon Vine is to use Salesbacker to grow the number of product reviews for your listings. Salesbacker offers an inexpensive, easy, and automated way to request product reviews from each customer who buys one of your products. With Salesbacker you can create an email campaign that triggers when a customer purchases your product, allowing you to contact the customer to thank them for their purchase and to request their feedback in the form of a product review. You can sign up for Salesbacker today and receive a free 30-day trial, so there is zero risk to giving this tool a try.
While Amazon Vine can provide a helpful injection of product reviews for your listing, the number of reviews you receive is limited by the number of free units Amazon allows you to submit. With Salesbacker, you can boost your product review potential with each and every sale of your product. Paired with a Sponsored Product Campaign or temporary price promotion, you can quickly see your product review numbers start to rise, for way less than what it costs to participate in Amazon Vine.