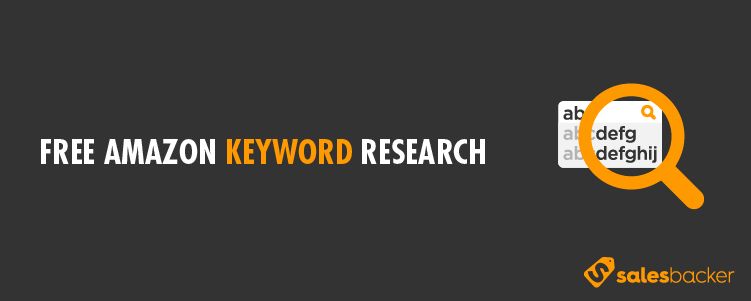 If customers can't find your product, they obviously won't buy it. Optimizing your Amazon listing for discoverability is a key part of any successful seller strategy, and finding the right keywords to add to your product listing is a huge part of this. While you likely have a sense for some of the keywords to associate with your product based on your product research, you need to get into the mind of all of your potential customers to find as many different keywords as you can in order to ensure your product is easy for your target customers to find. If you are wondering exactly how to find the right keywords to associate with your product, you've come to the right place.
How to Tackle Keyword Research
Step 1: Identify Seed Keywords
Before you get started on your keyword research you'll need to have a few keywords to use as a starting point in your research. You likely have a sense for some basic keywords just from your initial product research, so start by making a quick list of the terms that come to mind when you think about your product. Then, take some time to visit the product listings for your top competitors. Look through the product titles and product descriptions to identify the keywords that your competitors are targeting, and add these to your list.
Step 2: Choose Your Tool(s)
There are a wide range of free and paid keyword research tools available to Amazon sellers today; here is an overview of some of the top free tools to get you started on your keyword research.
1. Amazon Search Suggest
You can use Amazon's search suggestions as a helpful tool to start the process of keyword research and get a peek into the mind of the average Amazon shopper. While this approach will only give you a limited number of keywords, it will help you to identify the top most important keywords to build your listing around.
To do keyword research on Amazon, you simply type one or more keywords related to your product in the Amazon search field. Before you hit enter or click search, you'll see a dropdown list of additional keywords that are related to the words you entered. So for example, if you are selling a grill brush and you type "grill brush" into the search field, you'll see the most common additional search terms associated with "grill brush" to help you identify additional related keywords to include in your product listing.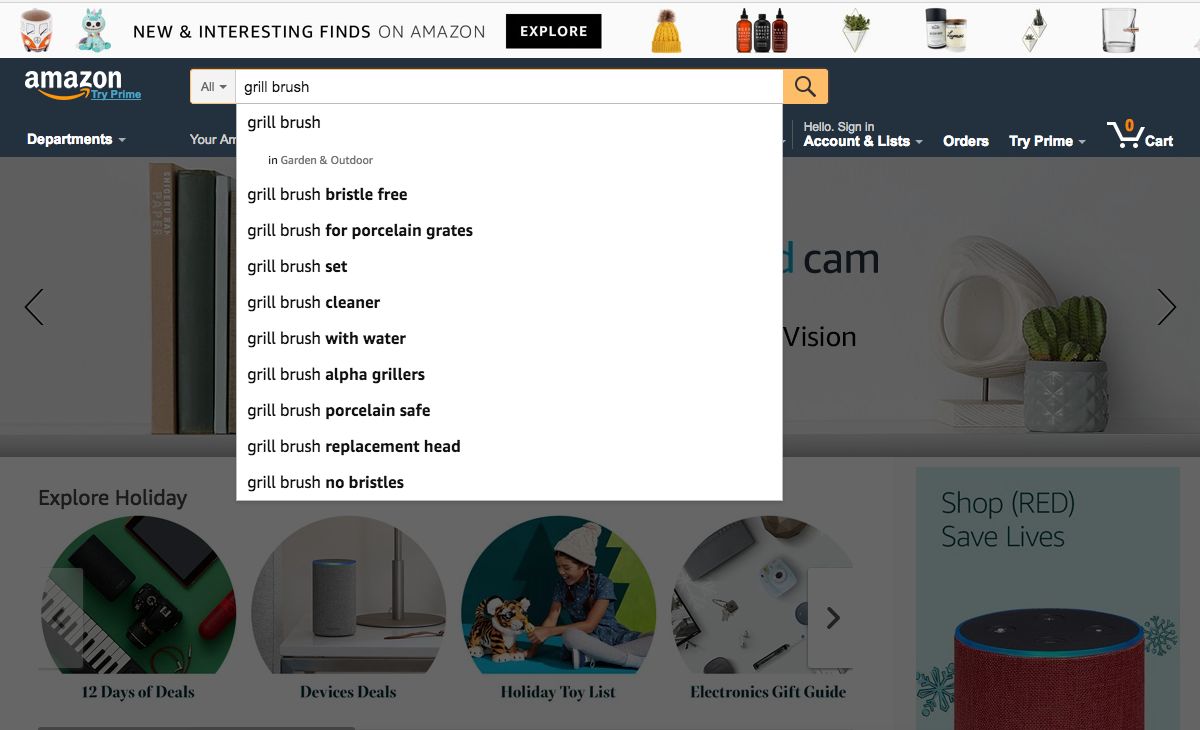 You'll want to try typing in both long and short versions of your keyword search terms in order to get the best results. For example, if you are selling a grill brush and you enter in only the word "grill" into the search field, you'll learn that "grilling accessories" is another term you can associate with your listing.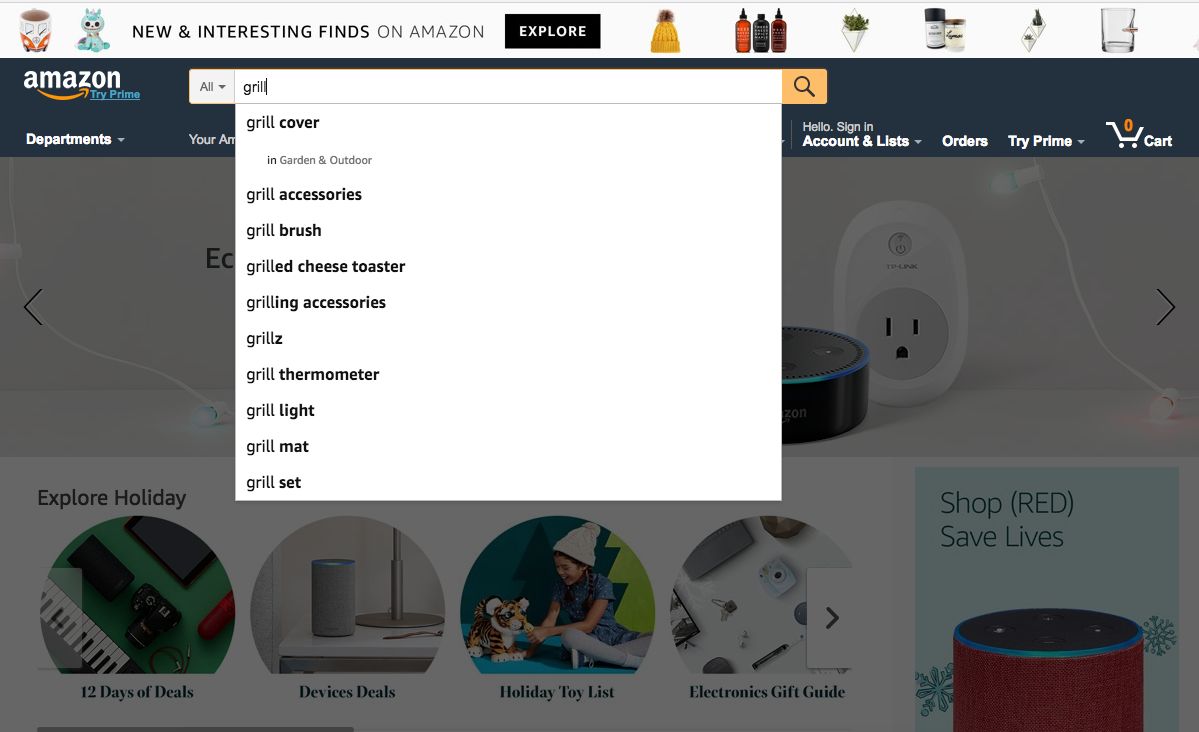 The more word combinations you try, the more keywords you'll discover.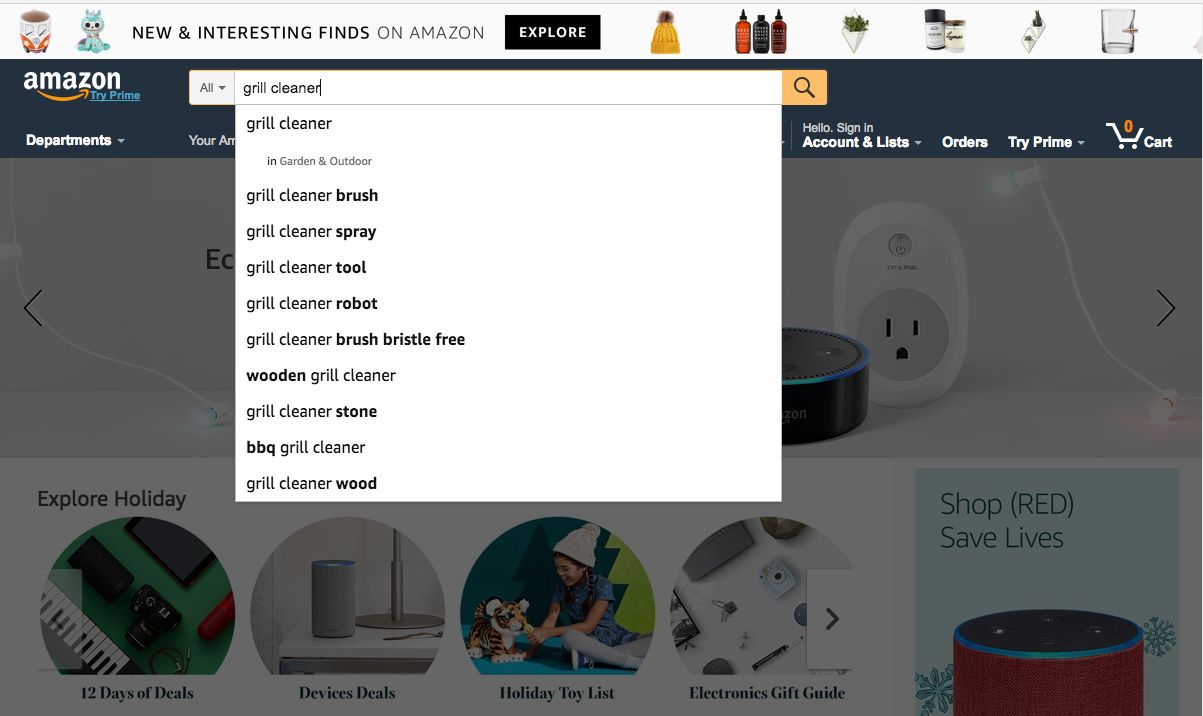 2. Google Keyword Planner
It should come as no surprise that Google offers a great tool to assist you in your keyword research. You can use Google Keyword Planner to search for new keywords, get search volume data and trends for specific keywords, and get click and performance forecasts for specific keywords (in the context of AdWords).
In order to use the Google Keyword Planner you do need to have a Google AdWords account.
To access the Keyword Planner Tool, click on the wrench icon in the top right corner of your AdWords homepage. A drop down will appear, and you can then click on "Keyword Planner" on the far left side of the drop down.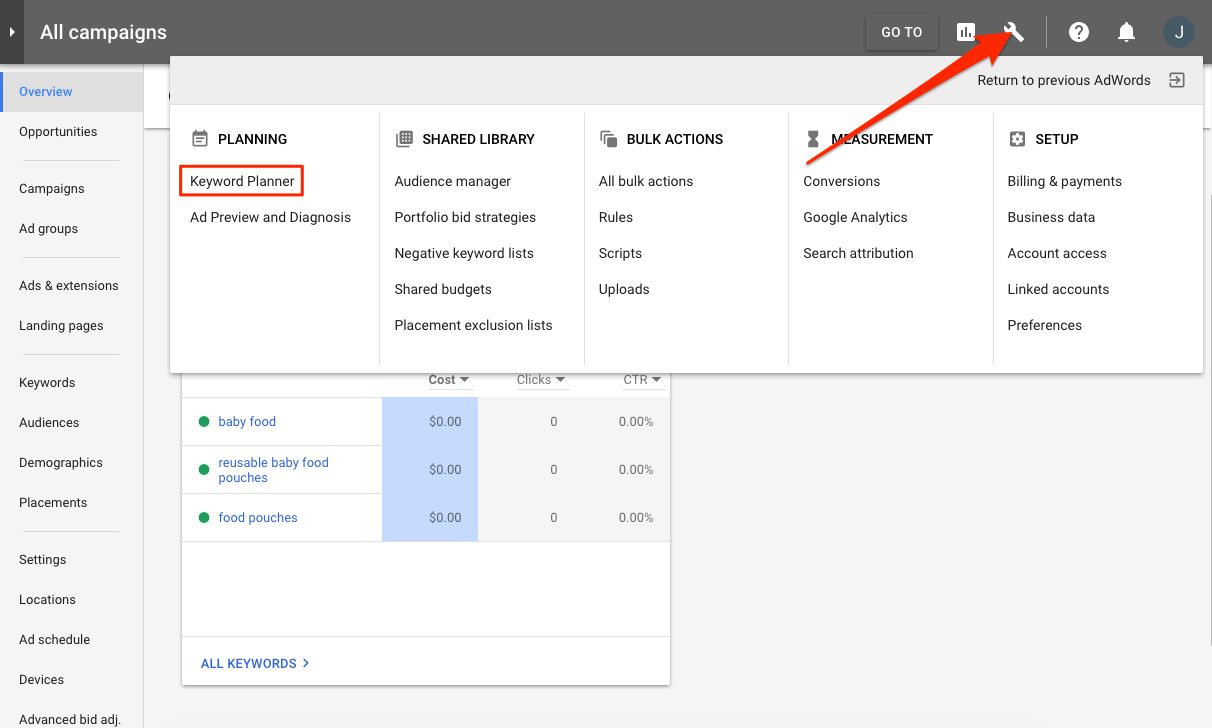 This will take you to the main menu for keyword research options.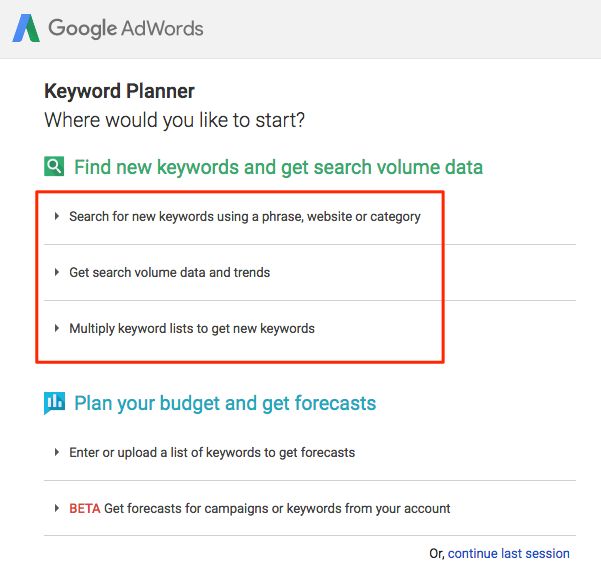 3. Keywordtool.io
Keywordtool.io is a free keyword research tool that gives you search data for Google, YouTube, Bing, Amazon, eBay, and App Store. It requires no account sign up or any other kind of registration to use. If you search for Amazon keywords the tool uses the autocomplete feature in Amazon's search field, but gives you a longer list of keyword results for each search term entered than what you would see if you search directly on Amazon's website.

Step 3: Seed Keywords + Keyword Research Tools
Once you have identified your seed keywords and chosen your research tools, it's time to get to work. Begin by entering your seed keywords into the tools to get new keyword suggestions. Depending on which tools you are using, you may want to try using relevant keyword suggestions found in your initial search to do yet another level of keyword research.
Adding Keywords to Your Product Listing
Once you've done your keyword research, there are three different ways to add the keywords to your product listing.
Option 1: Insert Keywords Into Product Title
The first option is to insert keywords into your product title. Here is the type of information that Amazon suggests including in your title for maximum effectiveness:
Brand
Product line
Material or key feature
Product type
Color
Size
Packaging/Quantity
Option 2: Insert Keywords Into Product Description
The second place to insert keywords is in your product description. This option presents the space to insert a large number of keywords, however be selective in which you use and how you use them. Your product description needs to be clear, informative, easy for customers to read, and on-brand. If you stuff too many keywords into your product description, the quality of your product description can suffer. So, be selective and strategic in how you insert keywords into your product description.
Option 3: Insert Keywords Into Search Terms Field
The third option for inserting keywords into your product listing is to use the search terms field in Seller Central. This field allows you to insert "hidden keywords" that are not visible to customers but that are associated with your product in Amazon's search algorithms. This is the place to insert keywords that don't easily fit into your product title or product description.
Take Keyword Research to the Next Level
While many of the free tools available for keyword research will give you a large number of keywords to associate with your product, it is most important to have the BEST keywords. What these free tools can't do well is analyze the data behind the keywords to help you rank keywords for popularity, identify seasonal trends, or find keywords for other retailer sites. If you are looking for a way to get more out of your time spent on keyword research, you may want to consider investing in a paid keyword research tool.
The Keyword Generator in AmaSuite takes your keyword research to the next level with keyword data coming not only from Amazon, but Ebay, Target, and Walmart as well. This tool will save you time thanks to an "Instant Search" feature that allows you to instantly filter your results in real time, and an integrated ability to enter multiple seed keywords at once to build keyword lists in just a matter of minutes. And you can double-click on any keyword to see the corresponding Google insights data.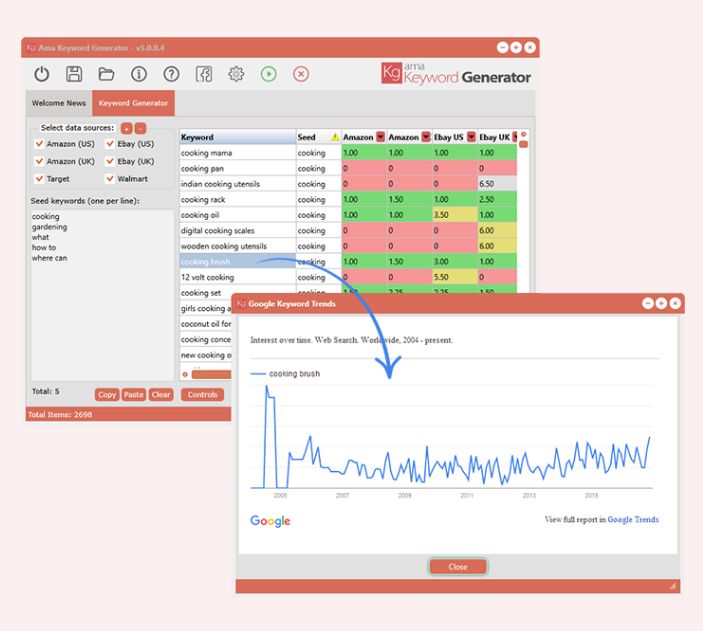 Each keyword listed includes a score based on how highly the keyword is placed in the search suggest field across multiple different retailers. This is data you can only get via the AmaSuite Keyword Generator.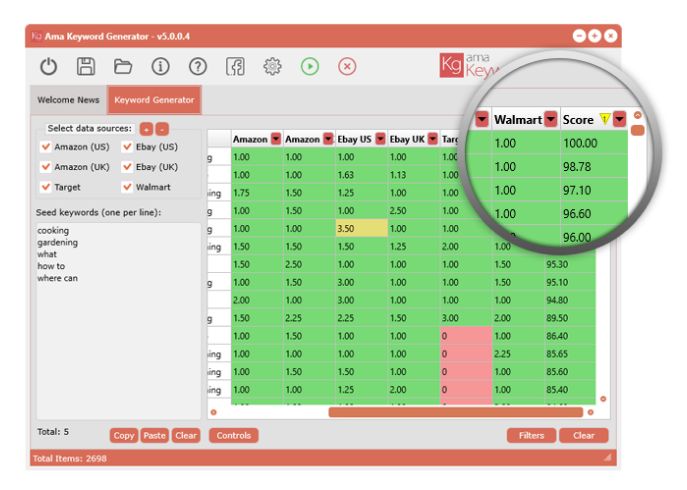 Along with Keyword Generator, AmaSuite gives you access to four additional software apps that will give you a huge competitive edge in your Amazon business, including:
Top Product Analyzer
Identify and analyze the top products to sell on Amazon
Search Analyzer
Search and analyze products and get product history data
Review Analyzer
Extract and analyze product reviews to identify top benefits and problems for a product, allowing you to ensure your private label products solve the problems that the competition has not.
Ali Inspector Bonus Software
Powerful 3-in-1 AliExpress product research software that generates niche keywords, analyzes bestsellers, and uncovers top performing products to source from AliExpress in minutes.
Best Price On AmaSuite
Click here to get the best price on AmaSuite. You can also watch a replay from a live AmaSuite workshop that we put on that shows more in depth demos of all the tools.
Keywords Help Customers Find a Product, But Product Reviews Help Land the Sale
Associating your listing with the right keywords will help potential customers find your product, but the quality of your listing is what will land the sale. The importance of the product reviews in your listing cannot be over-emphasized, since the social-proof from product reviews gives potential customers the information they need to feel confident in their purchasing decision. And the more product reviews your listing has, the more of an impact it makes on potential customers. If you aren't yet using Salesbacker to automate the process of growing product reviews for your listings, now is the time — get a free 30-day trial when you sign up.