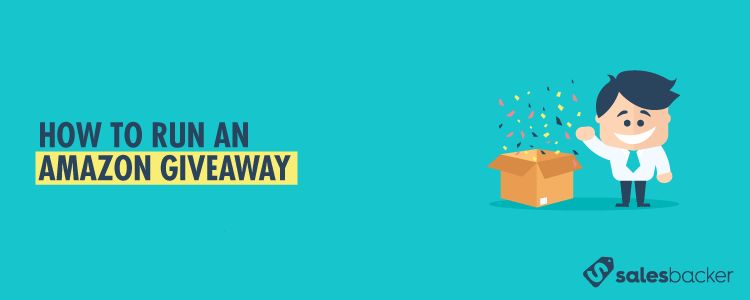 Nothing draws people quite like the allure of free stuff. So it is no surprise that giveaways, contests, sweepstakes, and drawings are a popular way for brands, bloggers, and websites to attract traffic and potential customers to their websites. But for anyone trying to coordinate this type of giveaway, it can quickly turn into a logistical nightmare of trying to source products, determine winners, and ship out the prizes. Amazon has created a solution to this problem with Amazon Giveaway. This service simplifies the logistics of a giveaway while adding the power of the Amazon brand to whatever contest a website runs. And for sellers looking for another way to grow their business, adding your products into Amazon Giveaway opens the doors to the potential of being chosen for a contest, getting many eyes on your product and brand that may never have seen it otherwise. And with no fee or associated cost, participating in this service as a seller really makes sense.
How it Works
The person creating the giveaway (otherwise known as the "host") simply has to have an amazon.com account. They then can browse for products to include in their giveaway. There are two ways to do this; The first option is for the host to visit amazon.com/giveaway to create their giveaway and to find giveaway eligible products.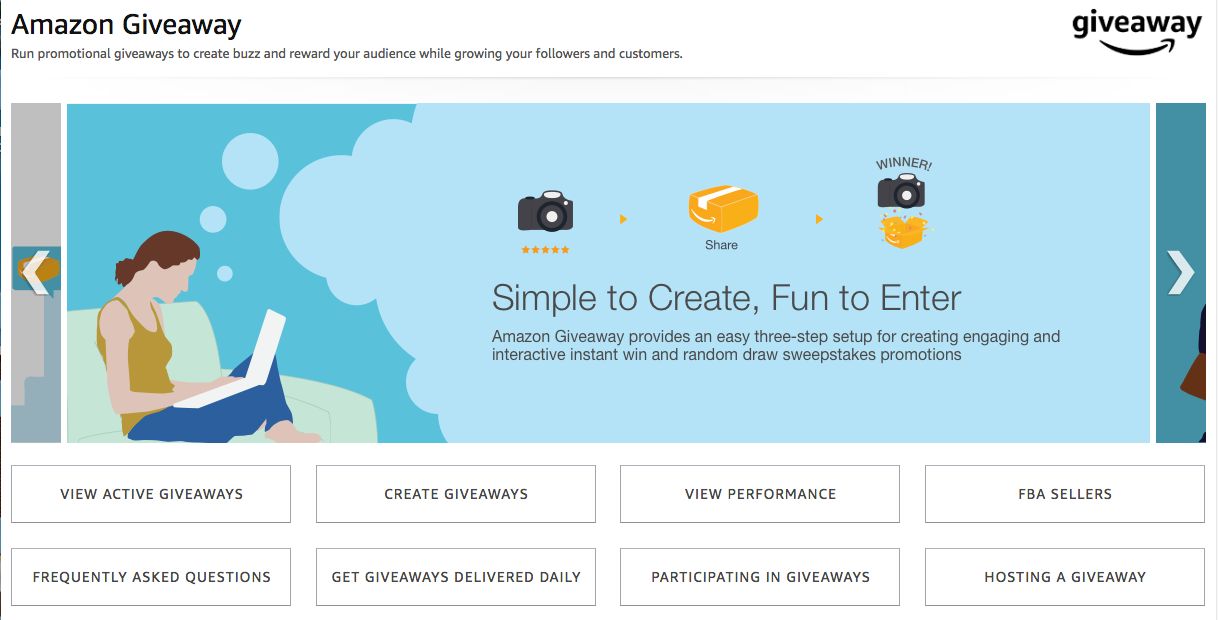 Another option is for a host to search on amazon.com for specific products they know they want to include in a giveaway. If the product is giveaway eligible, at the bottom of the product detail page the host will find a link to set up an Amazon Giveaway:

Once the host has selected the product to include in their giveaway, they set up the specifics of their giveaway. They'll determine the rules of the giveaway, such as who receives the prize and what the entry rules and requirements are (such as following the brand on social media or watching a video on YouTube). From here the host can create a title and messaging for their giveaway. The host then checks out, paying for the products as well as tax and shipping costs. Once the host has checked out they receive a giveaway link to use in promoting their giveaway.
Amazon Giveaway then handles the majority of the logistics surrounding the giveaway, including:
Identifying winners (based on the rules and criteria established by the host)
Sending the prizes to the winners
Certain income tax reporting (see FAQs for more details)
Because of the services provided by Amazon, hosts can put all of their focus on selecting the items to include in their giveaway, creating the messaging for the giveaway, and promoting the giveaway over social media, email lists, or on their website.
Seller and Product Eligibility Criteria
As a seller, Amazon Giveaway is a way to potentially get free promotion and advertising for your product from the host running the giveaway. This can help increase sales and also help with brand recognition. There is no fee associated with participating in Amazon Giveaway, and you even get full payment for the item featured in the giveaway.
Sellers who would like to have their products eligible for Amazon Giveaways need to meet the following prerequisites:
Sellers must have Professional selling accounts in Seller Central
Products must be available via FBA (merchant fulfilled items are not eligible)
How to Enroll Products in Amazon Giveaway
From the Seller Central homepage, select Fulfilment By Amazon from the Settings dropdown.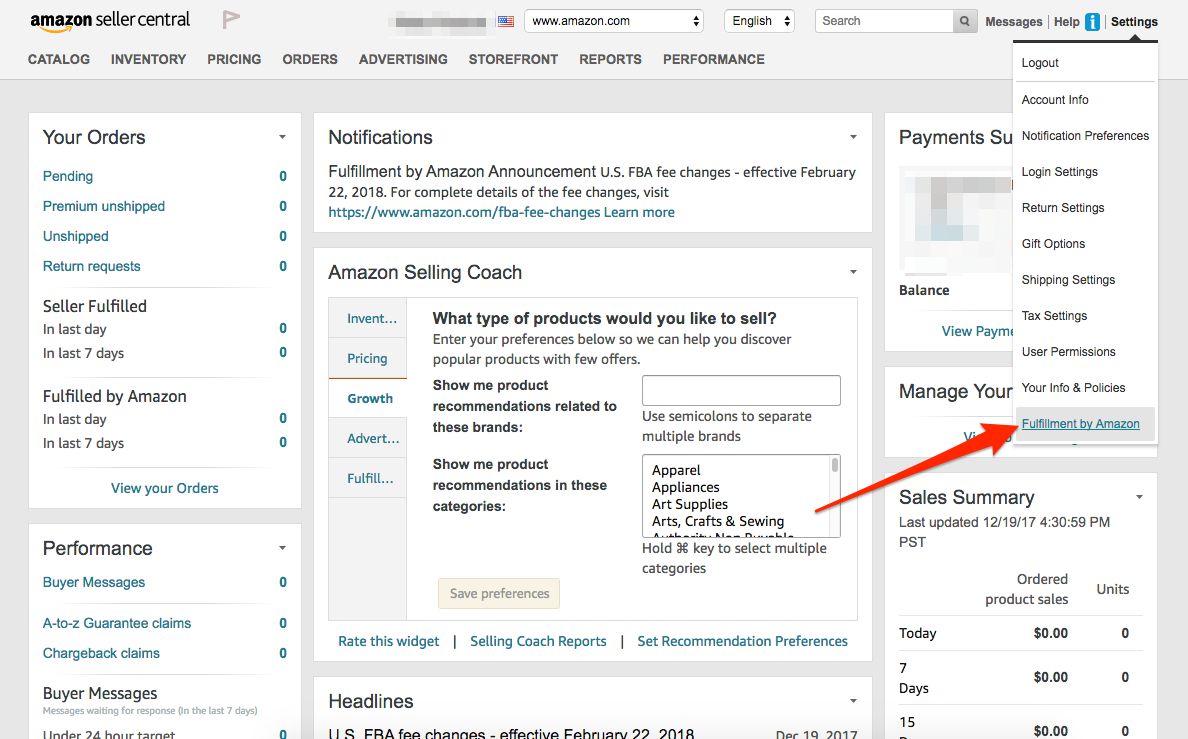 Scroll down to the very bottom of the page where you will find Giveaways Settings. Click the Edit button in the upper right corner.

Select Enable, and then click the Update button.

Be aware that once you've saved the changes your Giveaways Settings it may take up to 24 hours for the changes to go into effect.
It is also important to know that Giveaways Settings are at the account level, so once you enable this feature on your account all of your products will be made eligible for Giveaways.
Some Notes on Giveaway Transactions
All standard Amazon selling fees and FBA fees apply to giveaway transactions. Sales will be reported once the giveaway is complete. If one of your items has been selected for a giveaway but the giveaway is not complete, the inventory will show as reserved in your Seller Central reporting. If you use Buyer-Seller messaging to contact your customers, be aware that those messages will go to the host of the giveaway and not to the recipient of the prize.
Use Salesbacker with Buyer-Seller Messaging
Speaking of which, if you aren't already using Salesbacker to automatically email customers who purchase your product to ask them for feedback in the form of a product review, now is the time to start. This great tool helps you to quickly grow the number of reviews for your products, giving your listing more legitimacy and a competitive edge since customers often use product reviews to make purchasing decisions. The more reviews your listing has, the more information you are giving potential customers. This information can also help any giveaway hosts when they are looking for products to promote. All new Salesbacker users get a free 30-day trial, so be sure to sign up and start growing the number of reviews for your listings today.
Host Your Own FBA Giveaway
Once you've enabled your Seller Central account for Amazon Giveaway, you can run your own giveaway promotions to help get the word out about your product. Using your product website or social media, you can promote the giveaway and help spread the word about your product… again, people love getting free stuff!
To host your own FBA giveaway, select Promotions from the Advertising dropdown in Seller Central.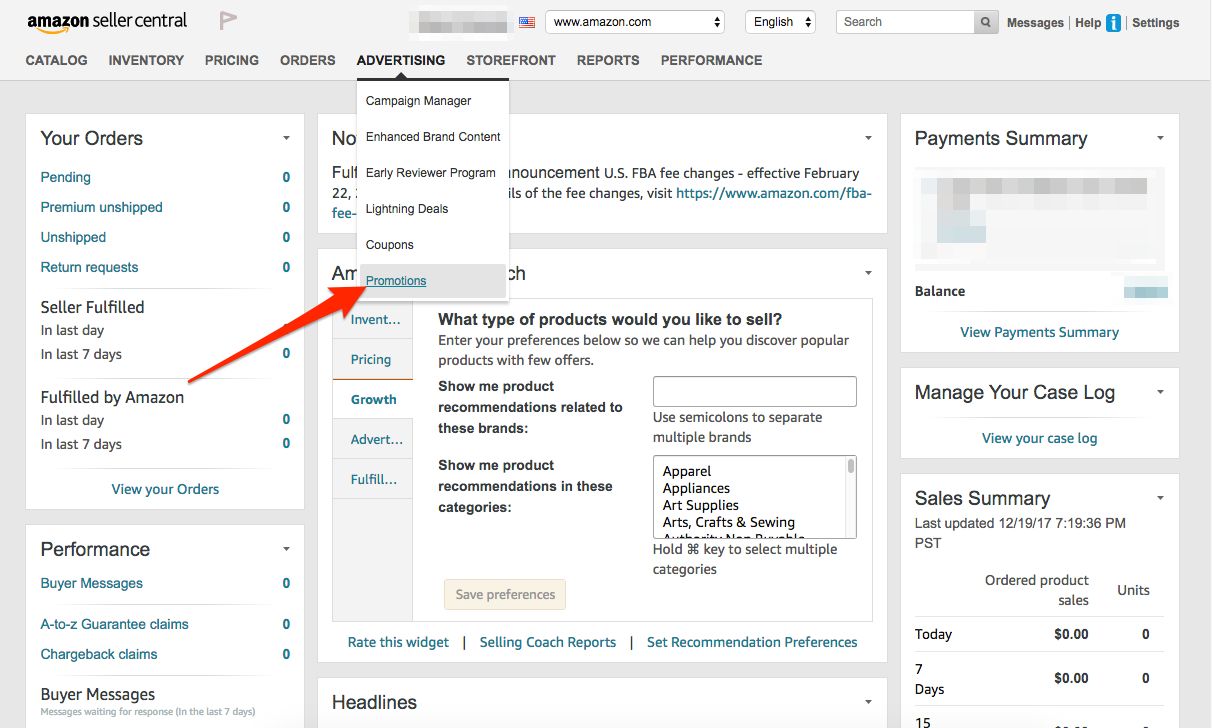 Next, you will click on the Create button under Giveaway.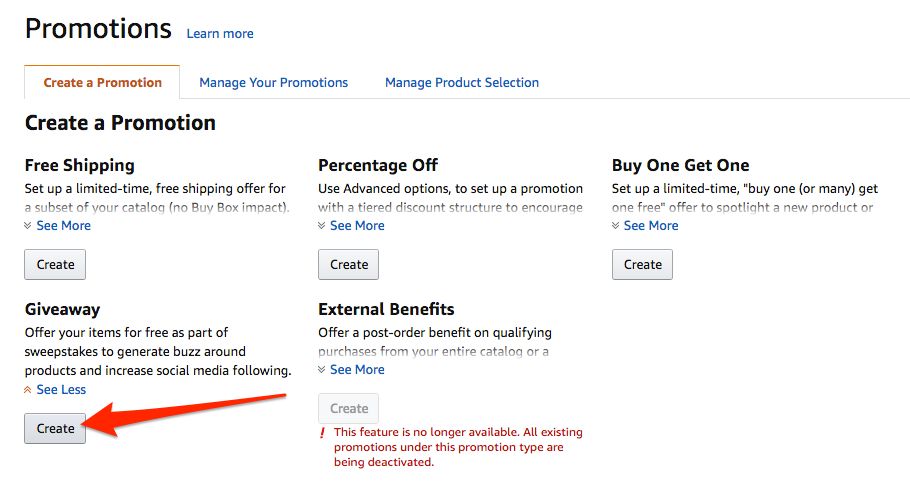 Next you'll select the product you want to include in your giveaway. Then you'll be able to set the rules for your giveaway (such as every 5th participant wins or the first 10 participants win). You'll also set the number of total prizes you want to include in your giveaway, as well as the rules for entry (for example, the entrant must follow you on a social media platform, must watch a video, or some other requirement, in order to be entered into the giveaway). You'll next purchase the products, and then receive an email with the giveaway link that you can promote on social media, your website, mailing lists, etc.
Wrapping It Up
Amazon Giveaway is a great way to get fresh eyes on your product, promote your brand, and potentially get some free promotion for your product. Whether you host the giveaway or someone else does, by activating this feature in your Seller Central account you'll be opening the doors to a helpful and easy way to promote your products and grow your sales. You can also see live examples of Amazon giveaway products here.