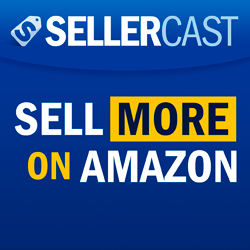 Direct podcast MP3 download link
Like the show? Get new episodes on iTunes or Stitcher
Dan and Eric are on the podcast today and they're on track to sell over $6 million dollars worth of products in 2016. They did roughly $4 million in 2015.
Dan and Eric are different than our past guests though because all of their sales come from wholesaling, but the way in which they wholesale their products is a lot different than what you might normally associate with wholesaling. We love having on guests with ecommerce businesses of all shapes and sizes and even if you're a private label seller on Amazon you should enjoy today's episode.
Want to ask a question?
Get involved and ask a question about selling on Amazon and Chris may answer your question live on a future episode of Sellercast. Also, if you think you'd be a good guest for the Sellercast podcast feel free to tell us more about you and your company here.
Need more product reviews?
If you'd like to get more reviews for your products on Amazon check out Salesbacker.
Show Notes and Links
Podcast Transcript
Coming Soon