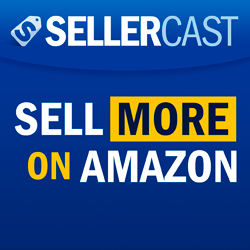 Direct podcast MP3 download link
Like the show? Get new episodes on iTunes or Stitcher
On today's episode we bring back Spencer Haws, our guest from episode 13 which aired back in December 2015. When Spencer was first on the show, he shared how he was getting traffic to his ecommerce brand website and how his sales were doing on Amazon.
Today roughly 10 months later we get an update from Spencer on his sales data but he also shares how he's now getting over 1,400 unique visitors a day to his ecommerce brand website.
Spencer shared several tips on how to get traffic to your own brand website and also shared a unique method that he's making extra money from his brand website from.
Want to ask a question?
Get involved and ask a question about selling on Amazon and Chris may answer your question live on a future episode of Sellercast. Also, if you think you'd be a good guest for the Sellercast podcast feel free to tell us more about you and your company here.
Need more product reviews?
If you'd like to get more reviews for your products on Amazon check out Salesbacker.
Show Notes and Links
Podcast Transcript
Coming Soon