Update: We've received many questions from sellers asking if there's a more affordable way to obtain UPC codes than the GS1 source we describe below. For example, let's say you're selling a product with 150 variations. As of this writing, it would cost $2,500 to buy your UPC codes from GS1, plus a $500 annual renewal fee. If you plan to use Amazon Brand Registry, the only guaranteed option is still to buy your UPC codes directly from GS1. But if you don't plan to register your brand on Amazon, don't have the budget for UPC codes, and accept the risks (see below), then you can purchase them from a reputable 3rd party provider of GS1 UPC codes like Bar Codes Talk,* and save quite a bit of money.
*Bar Codes Talk is a trustworthy provider who's been in this business for over 10 years, has served over 150,000 customers, and offers detailed assistance to Amazon sellers to help them through the process of getting their products properly coded. Disclosure: we earn a commission from any purchase you make at Bar Codes Talk.
As you prepare to launch a new product on Amazon, a standard step in the process is to obtain a UPC (Universal Product Code) to use on your product. Amazon does require a unique identifier as part of the listing process, and UPCs are most commonly used. So, what's the best way to go about obtaining a UPC, you might wonder?
Before you do anything, it is important to take a step back and review Amazon's policies on UPCs, be sure you understand how UPCs work, and consider all of your options for complying with Amazon's requirements so that you can make an informed decision about how to proceed.
Amazon's UPC Code Policy
In 2016 Amazon made some updates to their UPC code policy, clarifying how they validate UPCs. The policy around valid UPCs states the following:

"We verify the authenticity of product UPCs by checking the GS1 database. UPCs that do not match the information provided by GS1 will be considered invalid. We recommend obtaining your UPCs directly from GS1 (and not from other third parties selling UPC licenses) to ensure the appropriate information is reflected in the GS1 database."
Because of this policy, it would be best to obtain your UPCs directly from GS1. You will find websites where you can purchase UPCs (and often at a significantly reduced price compared to GS1) but these sites cannot guarantee legitimate UPCs that will meet Amazon's standards. And keep in mind, if you provide Amazon with an invalid UPC they may revoke your selling privileges, temporarily or permanently. So, this isn't the time to cut corners or take risks.

For more details, please see this page in your Seller Central account (requires login)
The Process of Obtaining a UPC
Step 1: Apply for a Company Prefix
When a company wants to obtain a UPC, the first step they must take is to apply for a company prefix with GS1 (Global Standards 1). This organization provides each company with a unique 6 to 10 digit company prefix, depending on the size of the company and the number of potential items that company plans to offer. The more products a company offers, the shorter their company prefix will be. The company prefix makes up the first 6 to 10 digits of all of the UPCs for items sold by that company.
Step 2: Assign Product Numbers
Once you've received a company prefix from GS1, the next step is to assign product numbers to each and every product you offer. UPCs must always include 11 digits (the 12th digit in a UPC is called a "check digit" and is automatically calculated based on the 11 digits of the UPC). Companies with a 6-digit company prefix will need to give each product a 5-digit product number, while small companies with a 9-digit company prefix will only need a 2-digit product number.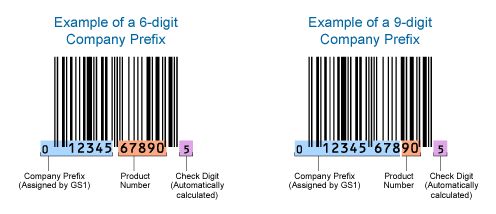 (Image Source: GS1-US Info)
Step 3: Decide How to Label Products
Depending on where you are in your item creation process, you have a couple of options for how to put your UPC onto your physical product. If your packaging hasn't been printed yet, you can obtain a digital barcode file (.esp) and incorporate the UPC into the printed packaging. Or, if your product packaging is already printed you can create UPC labels or stickers to place on the packaging.
Step 4: Order Barcodes
When you are ready to order your barcodes either as a digital file or as a label, you will need to pay a fee to GS1 to place your order. The fee you pay is based on the number of UPCs you need to obtain, and the price ranges anywhere from $400 for 1–10 UPCs, or up to $4,000 for up to 1000 UPCs. You also will need to pay an annual fee to maintain your UPCs, and this fee ranges from $50 to $500 (again, depending on the number of UPCs you have). Be sure to get the most bang for your buck — even if you only need one UPC, the $400 price tag allows you to get up to 10, so be sure to get all 10 UPCs. You can keep any you don't use now on hand for use with potential future products.
Sticker Shock… and Alternatives
That's right; you are looking at dropping $400 (at least) for UPC codes. That may very well be a lot more than what you budgeted for. Particularly because you can find tons of websites offering UPCs for sale at a fraction of that cost. But remember, Amazon doesn't mess around with UPCs. Take a risk at handing them an invalid UPC and Amazon can take away your selling privileges.
But before you think that paying $400 is your ONLY option, there is one potential alternative that could cost you next to nothing depending on the product you are selling and what (if any) other business streams you have planned beyond Amazon.
Brand Registry as an Alternative to UPC
The good news is that there is an alternative to UPCs for most private label products sold on Amazon (including products in the following categories: Baby Products, Beauty, Clothing & Accessories, Health & Personal Care, Home & Garden (including Pets), Home Improvement, Sports & Outdoors, and Toys & Games). If you enroll your brand in Amazon's Brand Registry, Amazon will provide you with a GCID (Global Catalog Identifier) that you can use as the unique identifier in your listing, in place of a UPC. Just keep in mind that you do need to have an active trademark in order to begin the brand registry process, so if you don't have that in place this option may not be feasible for you. Also, be sure to verify that this alternative approach is acceptable for the product that you plan to sell. You can verify this in Seller Central where you'll find a list of all category-specific UPC requirements (Seller Central login required).
Keep in mind, this alternative probably only makes sense if you plan to sell your product with Amazon alone. If you plan to sell your products with retailers other than just Amazon, you'll likely need a UPC.
In Summary
If you want to avoid running into issues with Amazon or other retailers, be sure you purchase your UPCs directly from the source — GS1. If you can't afford the steep price tag GS1 carries, and only plan to sell your product on Amazon, consider using the GCID that you receive when you enroll in Amazon's Brand Registry as an alternative.
Get Product Feedback from Day 1 With Salesbacker
Once you launch your product on Amazon, be sure you are using Salesbacker to automatically email each customer who purchases your product to ask them for a product review. The more product reviews your listing has, the more information potential customers have to make a smart and confident purchasing decision, and the more likely you are to land the sale. So don't wait — sign up today and receive a free 30-day trial of Salesbacker.