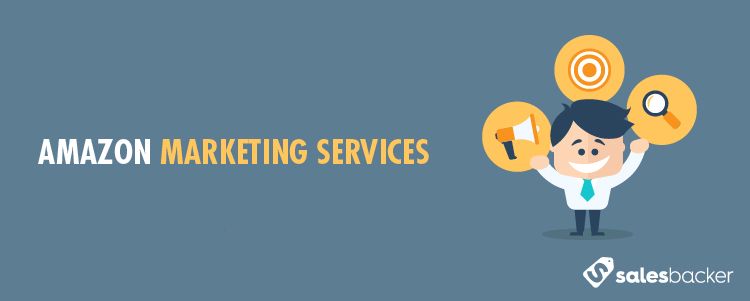 As a savvy third-party seller you are always looking for ways to grow your business, increase visibility for your products, and ultimately make more money. Maybe you're familiar with the marketing options available in Seller Central, and you are wondering if Amazon Marketing Services (AMS) is something you should try next. But how do you gain access to AMS? And what exactly does AMS give you?
What is Amazon Marketing Services (AMS)?
AMS is a bundle of marketing services offered by Amazon to their vendors. Since this is a vendor-oriented program, it is only available through the Vendor Central platform and isn't something sellers can access from Seller Central. So, your options to access AMS are to accept an invitation from Amazon to Vendor Central, or to sign up for Vendor Express.
Vendor vs. Seller: Some Background
There is a lot to know about Vendor Central vs. Seller Central and what exactly it means to be a vendor or a seller in the Amazon marketplace. Be sure to take some time to read up on this topic, but here's a quick summary for context as you learn about AMS.
You are likely familiar with Seller Central and the business model of being a seller on Amazon. In a nutshell, as a seller you basically pay Amazon to use some space on their website to sell your products, with the option to also use their fulfillment services. As a seller you control the listing, the customer price, and in general have full control over your product as long as you comply with Amazon's terms and conditions.
As a vendor, using Vendor Central or Vendor Express, you are working under a totally different business model. You essentially sell your product to Amazon, who then turns around and sells the products to their customers. This means Amazon controls the listing and the customer price.
So, keep this information in mind as you learn about AMS, because as you can already see, it's a totally different ballgame to be a vendor with Amazon.
AMS: The Specifics
With AMS you have access to a menu of ad types that allow you to target shoppers based on their keyword searches. These are pay-per-click advertisements, and you are able to bid on keywords to compete with other sellers for ad placement. You set a daily budget for each campaign you run, and from there placement is automated based on your bids. Amazon also offers sales reporting through AMS that allows you to track the ROI from your campaigns to help you optimize advertising performance.
Types of Advertising Campaigns offered in AMS
Within the menu of advertising campaigns offered in AMS, there are basically three ad types to choose from:
Sponsored Products (sometimes referred to as Keyword Ads)
Headline Search Ads
Product Display Ads
Sponsored Products
With a Sponsored Product ad, you choose the product that you want to advertise along with the keywords and daily budget. You then compete with other vendors to win placement, based on the keyword bids you offer. Sponsored Products are featured within keyword search results in the Amazon store.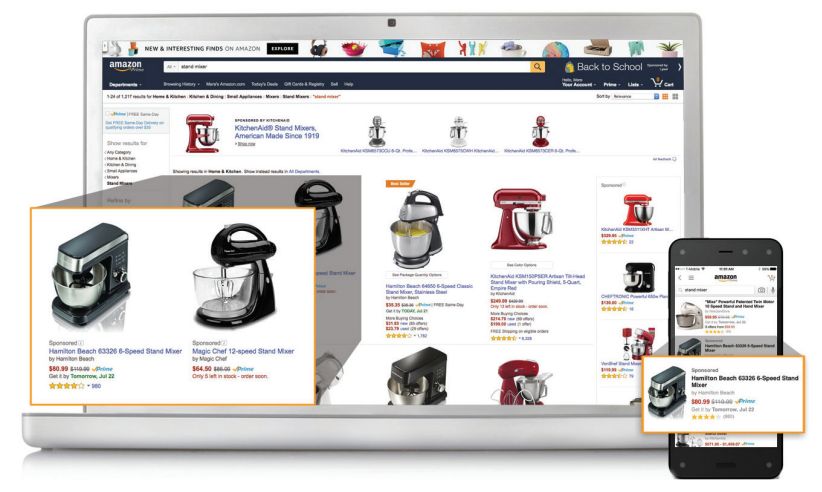 For more information, click here
Headline Search Ads
Headline Search Ads allow a vendor to feature multiple products (three or more) within a single ad that runs across the top of a search results page. The vendor creates a headline, selects the products to feature, and then selects the landing page where shoppers will visit should they click on the ad (typically a brand page or a page featuring specific products). This type of ad is used not only to sell products, but to increase general brand awareness. For Headline Search Ad campaigns, the minimum cost-per-click is $0.10, the minimum campaign budget is $100, and minimum per-day budget is $1.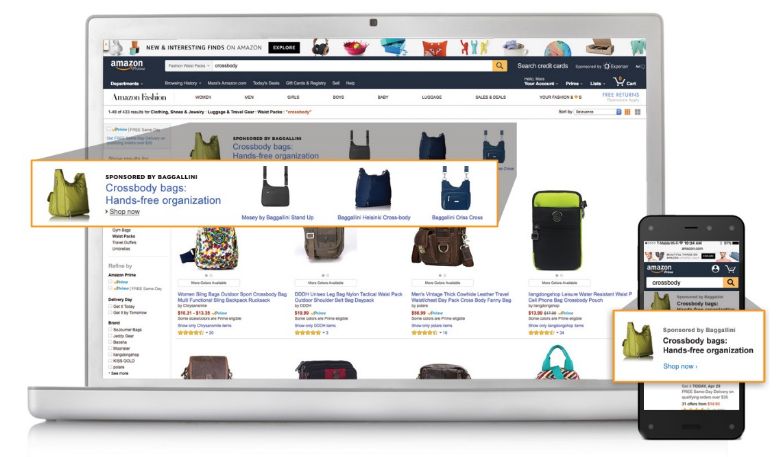 For more information click here
Product Display Ads
With a Product Display Ad, you can target either a general customer interest or specific products to have your product featured to your potential customers. The vendor creates a headline and inserts a logo to make the creative more eye-catching. For Product Display Ad campaigns, the minimum cost-per-click is $0.02, the minimum campaign budget is $100, and minimum per-day budget is $1.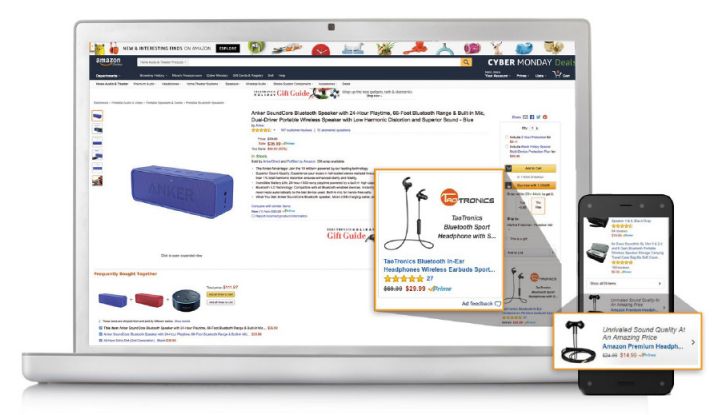 For more information click here
Should You Give AMS a Try?
Deciding whether or not to use AMS is not as simple as determining whether you have the budget, or if it seems that the ROI would pan out. The real decision is between two different platforms and business models and the challenge is to decide which, at the end of the day, is going to make you the most money and help you meet your business goals. So when considering AMS you have to consider not only the differences between the marketing campaigns offered in Vendor Central vs. those offered in Seller Central, but the overall differences between each platform and how those differences are likely to impact your business.
AMS and Seller Central Marketing: The Differences, Boiled Down
Now that Headline Search Ads are available in Seller Central, there is only really one unique marketing campaign available in AMS that cannot be accessed in Seller Central — Product Display Ads. But, this ad type gives you access to the most aggressive marketing since it allows you to target competitors and have your products offered up as a potential alternative to customers. With more and more advertising options coming to Seller Central, it wouldn't be surprising to see Product Display Ads (or something like them) pop up in Seller Central in the near future. But in the meantime, the only place you can access this marketing tool is through Vendor Central.
The Overall Pros and Cons of Each Platform
Again, it is important to weigh not just the differences between the marketing services offered by Vendor Central vs. Seller Central, but the overall pros and cons of each platform. So before you decide whether to give AMS a try, be sure to read this from start to finish: Seller Central vs. Vendor Central: Which is Right for You?
If You Test it Out, Go Slow.
After considering all the necessary factors, you may find that you are tempted to give AMS a try. If you are selling multiple products on Amazon, one option you might consider is to sign up for Vendor Central or Vendor Express but just move over one or two products. This allows you to test out the impacts without risking your entire business. Maybe consider mid-to lower performing products, so that you can get a taste for the growth potential with AMS and Vendor Central without putting the success of your top performing products at risk. Also, keep in mind that a migration to Vendor Central means that you'll lose access to MWS, so you won't be able to continue using any helpful third-party software tools — such as Salesbacker — that require an API connection.
Increase Product Reviews to Sell More Units
However you plan to market your products, you need customers to not only click into your product detail page but to actually click the buy button. While great product images and product descriptions can go a long way in landing the sale, the compelling social proof offered by product reviews can often be the deciding factor when a customer is considering multiple products. Salesbacker allows you to automatically email each customer who purchases your products to ask them to provide a product review. Give Salesbacker a try by signing up for a free-30 day trial.