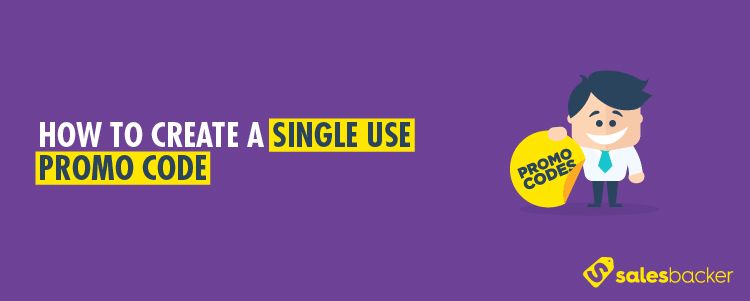 Updated: October 2017
If you've not yet created a promotion in your Amazon Seller Central account, you'll find a complete guide to setting one up in a previous article Step by step guide to creating an Amazon promotion. There, I've given you everything you need to set up your first promotion in an easy-to-follow guide.
Promotions are a great way to offer discounts to customers and generate sales, and thankfully, Amazon provides you with a great platform to offer these. However, creating a discount code on Amazon can be tricky business if you're not careful.
For instance, Haley was offering a winter coupon code for 50% off her organic sunscreen. She had nearly 500 simply sitting in stock, so she decided to offer a discount on 100 of them. So in her Seller Central account, she designed a promotion that would last for all of December. She created the discount code WINTER50 and emailed the code out to a specific email list of 200 customers.
Little did Haley know that her discount code WINTER50 would find it's way to a fairly large online coupon code site where it would be revealed to over 3,000 people. By the time Haley checked the stats on her sunscreen, she was shocked to see her entire inventory was gone. All 500 had sold out within two days.
There's always the possibility that your coupon code could go viral, and if you're not watching carefully, your inventory could be swept away just as quickly as Haley's. In order to prevent these and other problems, it is often a great idea to create single-use coupon codes for your promotion.
Setting up a single-use coupon code is done after you've created a normal promotion within your Amazon Seller Central account. So like I said earlier, if you haven't done that yet, follow the steps in the previously mentioned post, then come back to complete the process. Let's jump in!
How to Create A Single-Use Coupon Code For Your Amazon Product
We begin the setup process on the Advertisements > Promotions page that looks like this: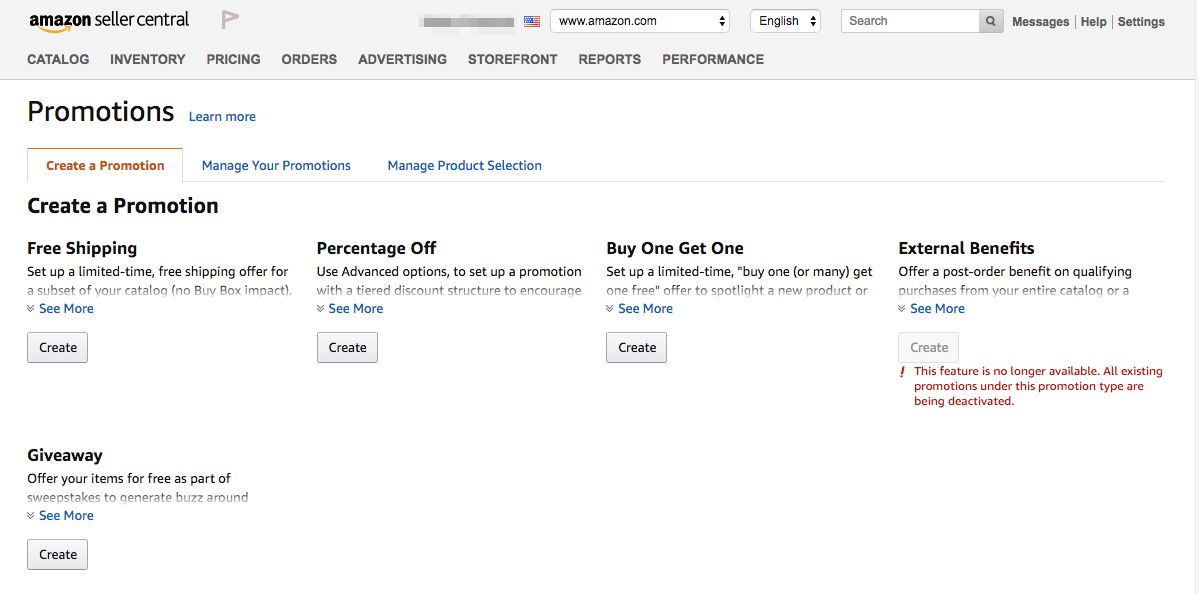 1. From the Promotions page, click on "Manage Your Promotions" which will bring up a menu that looks like this: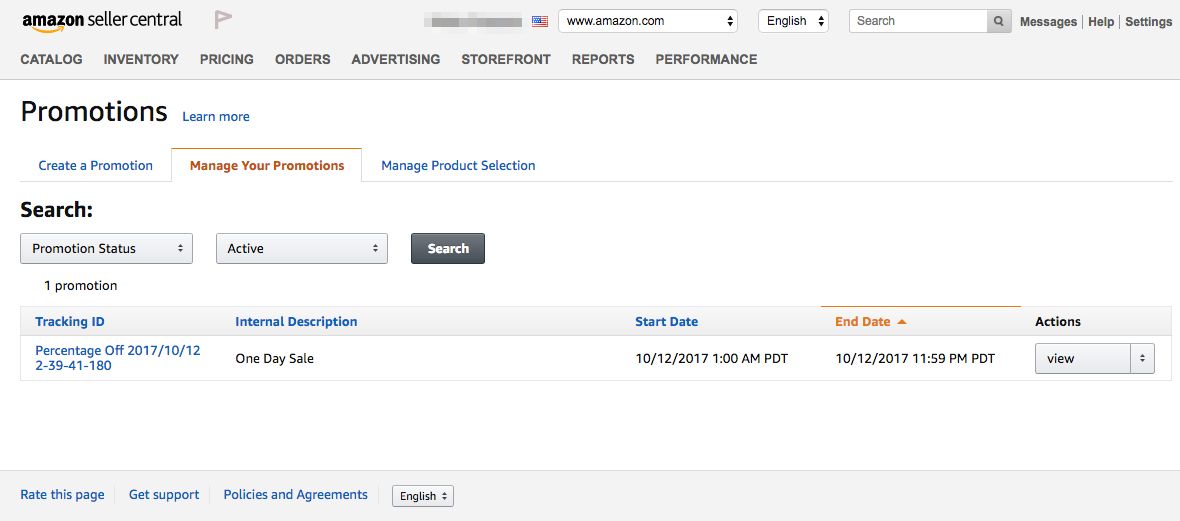 2. On this page, look for the Promotion you wish to work on from the list at the bottom. Choose the Promotion by clicking on its "Tracking ID".
3. On the next View Promotion page, choose "Manage Claim Codes" from the menu near the top.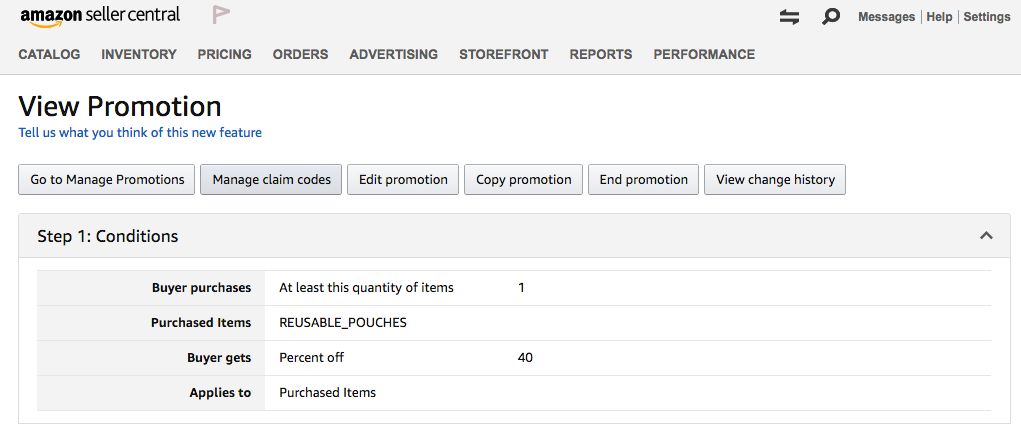 4. On the Manage Claim Codes page, enter a name you'd like to assign to this specific group of codes, then choose the number of promotional codes you'd like to have.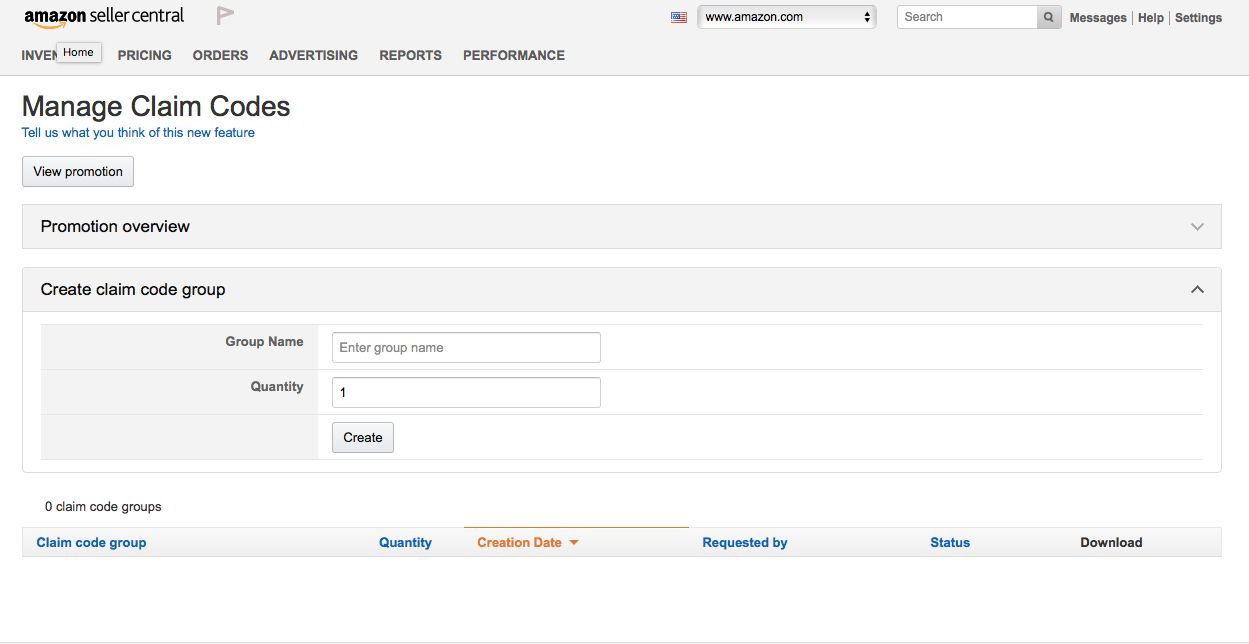 5. Once you've assigned a name to your Group and chosen the quantity, click on Create.

6. Now a new claim code group should appear in the bottom of the screen, and the status should be displayed as "In Progress".

7. Allow the claim codes to process for 1 to 2 minutes, refresh the page, then a "Download" link should appear on the far right of the line. Click download.

8. Unzip the .txt file, then open the file to view each coupon code. Save the codes to a file location you will be able to remember. You may also want to rename the file to make it easier to reference in the future.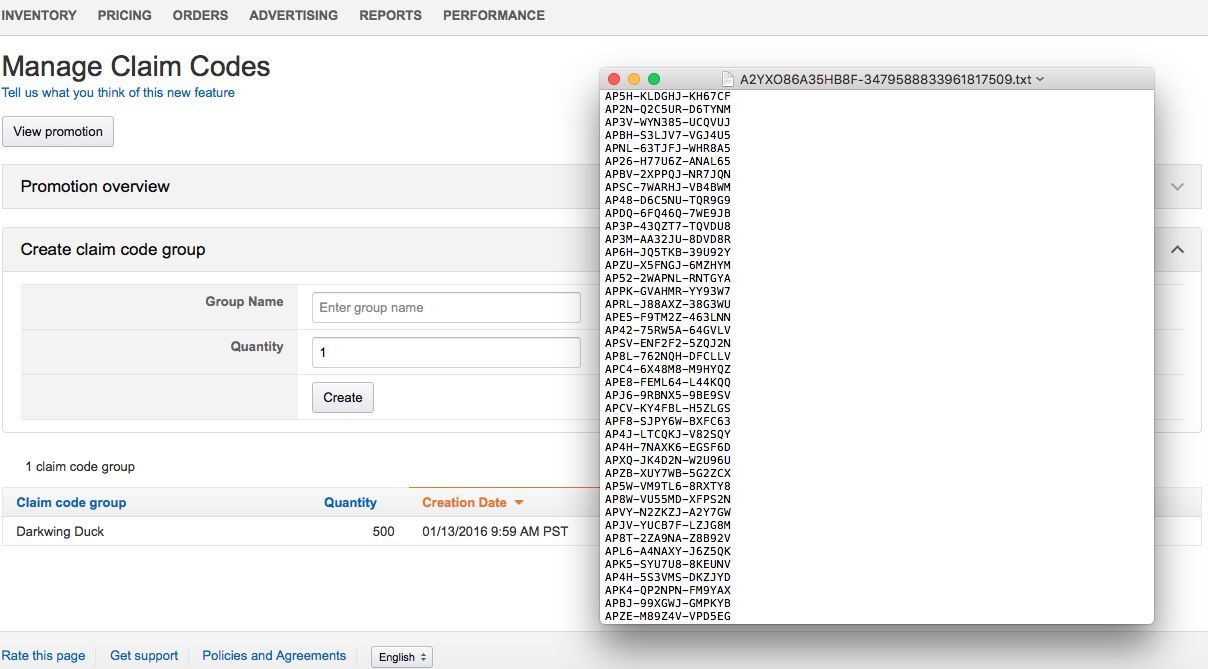 9. The use of these coupon codes is up to you. Certain review sites and software will take all of the coupon codes and distribute them one at a time, but you also might copy and paste them manually.
Conclusion
One of the most crucial challenges for any Amazon seller when running a promotion is protecting your inventory. By using single-use coupon codes, you can be assured that only a specific number of customers will receive the discount, and even if the code is shared publicly, it can only be used once.
Don't become one of the stories shared by so many sellers who have lost thousands of dollars from a mistake within a promotion. Educate yourself in how to navigate promotions within Seller Central, and make your promotions work for you, not against you.
Now that you've created your first single use promo code, take a few minutes to start your free Salesbacker trial. All together it will take less than 7 minutes to get started and you only have to complete the setup once to get up and running.