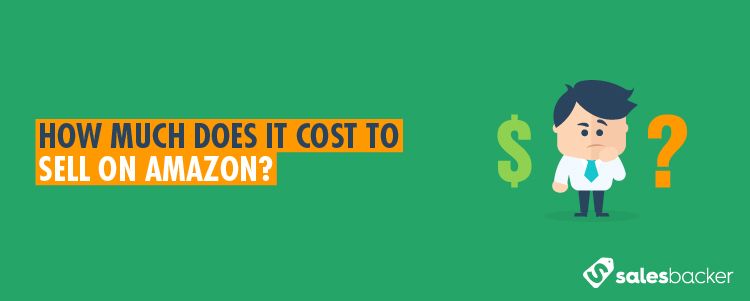 You've probably heard the stories… the crazy, near-overnight successes of people selling private label products on Amazon through the Fulfillment By Amazon (FBA) program. People are raking in hundreds of thousands of dollars, and maybe you are thinking that you'd like a piece of that pie. But one big factor is holding you back — money. You might be wondering, how much does it cost to sell on Amazon? Do I have enough start up cash to get a business going? What kind of fees and expenses should I anticipate as part of the ongoing price of doing business with Amazon?
There are certainly a few different angles to consider when looking at the cost to sell on Amazon. Here we will break down the two main cost considerations — the cost of sourcing a private label product to sell on Amazon, and the ongoing costs of selling a product on the Amazon platform — so that you have the information you need to make this business model work for you, whatever your budget might be.
The Cost of Sourcing a Private Label Product to Sell on Amazon
When you private label a product to sell on Amazon you purchase the product wholesale (in bulk) directly from a manufacturer who assists you with labeling the product with your brand. Private labeling a product is a great way to gain a competitive edge, thanks to the totally unique brand that you alone own. With a private label product you always win the buy box, since you are the only seller offering this exact item. But along with all of the benefits of private labeling there are some costs to consider.
When it comes to sourcing a private label product to sell on Amazon, there is no one total "cost" that a seller should expect. Depending on the product you choose and how you approach the process, you can spend just a little cash or make a very significant upfront investment. While there is no one right way to set your upfront investment budget, there is definitely a wrong way — insufficient planning that results in unexpected, unplanned costs that cause you to go way over budget. As you research different potential products to sell on Amazon, be sure you keep in mind the various costs associated with sourcing a private label product, and factor these costs into your total budget well before you spend a single dollar.
Per Item Cost (and Minimum Order Quantity)
Obviously the per item cost quoted by the manufacturer is a critical starting point when considering how much it will cost to get up and running with your product. Your goal when selecting a product should be to find the product that will provide the maximum profit margin potential while allowing you to stay within your budget. While certain items may at first seem less expensive due to a lower per item cost, be sure to always take minimum order quantity into consideration. If the per item cost is low but the minimum order quantity is high, you can end up paying more than you would for a product with a higher per item cost and lower minimum order quantity.
Packaging Expenses
Whether you opt to package your product in a polybag, cardboard box, or some type of specialty packaging, there is a cost associated with purchasing the packaging materials as well as the insertion of your product into its packaging.
Branding Expenses
You may want to hire a graphic designer to design the logo for your brand and to help with any packaging design work. Or, if your budget it tight and you feel up to the challenge, you can opt to do the graphic design work yourself. Once you have your branding materials in place and are ready to brand your product, be aware that there are typically extra costs associated with setting up the manufacturer's production line to support the printing of your logo onto the product or packaging. Be sure to get a comprehensive and clear breakdown of these expenses from your manufacturer in advance.
Shipping Expenses
Once your product is manufactured, you'll have to pay to have it shipped to you. If you purchase your product from an overseas manufacturer, there will also be costs associated with customs. You can manage shipping logistics on your own or you can hire the job out to a freight forwarder, but whichever route you choose, be sure to budget appropriately. Once your product is ready to ship to Amazon's warehouses you'll also have to pay shipping for that leg of the journey.
Marketing and Promotional Expenses
Every product successfully sold on Amazon requires a carefully planned marketing strategy. Whether you choose to give away free samples to get the word out, or invest in Sponsored Product Campaigns, you should be sure to budget for marketing expenses.
Investing in Product Reviews as a Marketing Strategy
One of the best ways to grow sales for your products is by having a large quantity of product reviews for your listing. Good reviews aren't enough — a large quantity of reviews shows that the product lives up to the hype. By using Salesbacker, you can automate the process of emailing each customer who purchases your product to ask them to provide a product review on Amazon, quickly growing the number of product reviews for your listing. Plus there is no upfront investment required in order to gain access to this powerful tool — every new customer gets a free 30-day trial of Salesbacker.
The Cost to Sell a Product on Amazon
It should come as no surprise that the process of actually selling a product on Amazon comes along with its own list of costs. It is important to understand the different costs, what you get for the fees you pay, and when the fees apply in order to have a well thought-out budget that offers little risk of surprise extra expenses.
Amazon Selling Plan Fees
When you sign up for a Seller Central account, you can opt for one of two different selling plans offered by Amazon. Your options include:
Individual Plan: $0.99/item sold (good if you sell 40 or less products a month), or
Professional Plan: $39.99/month for unlimited items
If you intend to do any sort of significant business at all, the Professional Plan is definitely the way to go.
Referral Fee
Think of this as the fee for being able to list and sell your product in the Amazon store. The fee is applicable to each item you sell on Amazon. Amazon calculates the fee as a percentage of the sale price or a minimum dollar amount, whichever is greater. The fee percentage varies by category, but for most categories you can expect to pay a fee of 15% of the sale price (although there are exceptions to this rule, both in higher percentages and lower percentages). The minimum dollar amount is $1.00 for almost every category, with a few exceptions — watches and jewelry have a minimum dollar amount of $2.00, and a handful of categories do not have an applicable minimum dollar amount and go strictly off of the percentage of sale price to determine the fee.
Variable Closing Fee
This fee only applies to media products such as books, music, videos, DVDs, video games, consoles and software. The most recent Amazon Fee Schedule lists a closing fee of $1.80 per item sold within any of the media categories.
FBA Fees
If you choose to use FBA to fulfill your orders, be aware that the FBA program comes with a number of fees associated with the service. Make sure you are clear on all of these fees, when and how they apply, and factor them into your business plan (you can use the Amazon FBA Calculator to help you do the math).
FBA Fulfillment Fee
This fee is based on the dimensions and weight of your product, based on product-size tiers for standard-size and oversize items. This fee covers the cost of labor associated with order pick, pack, and ship, as well as packing supplies, shipping costs to ship to the customer, and customer service.


For more details, please see this page in your Seller Central account (requires login)
Monthly Storage Fee
Amazon charges a monthly inventory storage fee to all FBA participants which is calculated based on the cubic feet of storage required for your products. The storage fee goes up significantly during the busy holiday months of October through December when warehouse storage space is especially valuable.

For more details, please see this page in your Seller Central account (requires login)
Long-Term Storage Fees
In addition to the monthly storage fee, twice a year Amazon applies a long-term storage fee to any products that have been sitting in the Amazon warehouses for at least 6 months. Inventory that has been in the warehouse for 6 to 12 months is charged a fee of $11.25 per cubic foot of storage space, and any inventory that has been in the warehouse for 12 months or greater is charged a fee of $22.50 per cubic foot.
Removal Order Fees
In the event you need to have your inventory returned to you, disposed of, or liquidated, a removal order fee will apply.

For more details, please see this page in your Seller Central account (requires login)
Returns Processing Fee
If you sell an item for which Amazon offers free return shipping (this includes Apparel, Watches, Jewelry, Shoes, Handbags and Sunglasses, or Luggage), you will see a returns processing fee for any returned items equal to the total fulfillment fee for the item.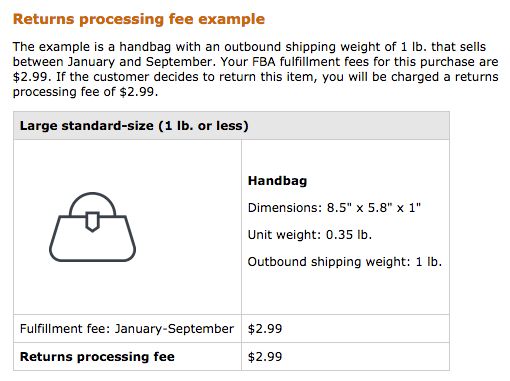 For more details, please see this page in your Seller Central account (requires login)
Unplanned Service Fees
If you send product to Amazon that is not prepared or labeled according to Amazon's exact requirements, Amazon will apply an unplanned service fee to resolve the issue on your behalf. If the issue is repeated in subsequent shipments to Amazon, the fee doubles.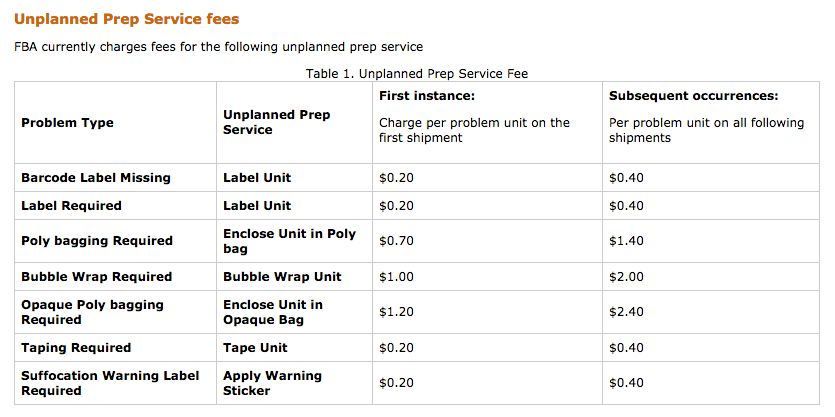 For more details, please see this page in your Seller Central account (requires login)
Budget Before You Spend
Whether you have tons of start up cash or very limited resources, be sure to develop a detailed budget before you start spending money so that you can make intentional use out of each dollar instead of reacting to expensive, unanticipated costs. When working with manufacturers, shipping companies, or freight forwarders it never hurts to ask,"are there any additional costs I might see, or is this quoted price the final total?" Consider not just the upfront costs to source a product, but also the ongoing, day-to-day expenses of doing business with Amazon. Once you have a solid idea of what it will cost you to sell your product on Amazon, you can more confidently move forward in the process.